3 Ways to Use Landscape, Hardscape and Garden Fabric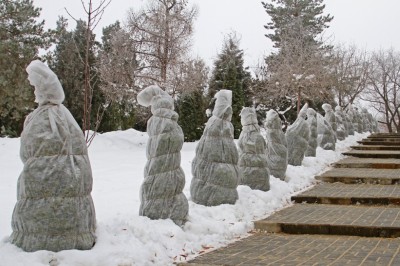 For seasoned landscapers and new homeowners alike, you may have some questions about landscape fabric. Also known as garden fabric and hardscape fabric, these materials can be used to protect and advance your landscape in a number of ways.
Let's take a closer look in this article.
Prevent Weeds
Prevent the growth of weeds and better retain moisture in the ground with the use of landscape fabric. This fabric is generally a black woven or non-woven cloth that is made from polyester, linen or polypropylene.
In a few easy steps, you can use landscape fabric to help prevent the growth of weeds in your garden. First, lay out the landscape fabric across your garden area and measure to ensure that there is enough coverage. Secondly, you will have to cut out holes where plants already are, or where they will be growing through.
Once measured, place the fabric across your garden and push through existing plants if there are any. Once the garden fabric has been placed, you can cover with 2-3 inches of mulch or garden rock to further prevent the growth of weeds and improve the overall aesthetic of your garden.
Protect Plants
You can help to protect your plants from cooler Ontario weather with row covering. Row cover or floating row cover is a lightweight material generally made of polypropylene. Row cover is white in colour, with the main use being protection for plants from both hot and cold weather, depending on the intended use. In Canada, it is often used for protection from frost, ice and snow.
Row covering is commonly used to extend the growing season, provide protection from the elements and even protect against certain insects. All you have to do is lightly drape the garden fabric overtop of your plants, secure in place with rope and you are good to go until the spring.
Protect Hardscapes
Hardscape fabric can be used to protect, you guessed it, hardscapes! Some hardscapes found in your landscape are expensive and might not stand up to the elements during a cold, harsh winter in Canada.
Similar to garden fabric, all you must do is drape your hardscape fabric over top of the structure in need of protection and secure it in place with some rope or a bungee cord.
You can go the extra mile by removing snow and ice from the structure throughout the winter to prevent a build-up of weight from accumulating.
Legends Landscape Supply
For more helpful information to help you transform or maintain your landscape, visit our blog. In fact, here are some articles you might enjoy:
Do you have a landscape project sitting on the backburner? Contact our team of landscape design experts for help bringing your property back to life.
From deck and patio areas perfect for lounging and entertaining, to outdoor kitchens, fireplaces, BBQs and more, Legends Landscape Supply in Burlington has you covered.