Ways to Keep the Exterior of Your Home Safer in the Winter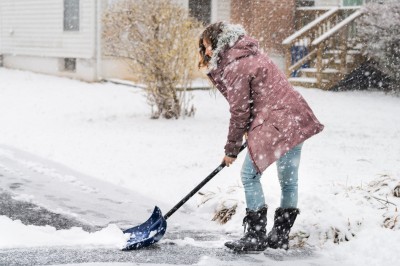 It's hard to deny the pure beauty of freshly fallen snow. With winter weather comes the added safety risk from the buildup and accumulation of ice and snow. With the right technique, products and knowledge, you can keep your home and property as safe as can be this winter. For more information, keep reading or visit Legends Landscape Supply in Burlington today.
Use Ice Melt Products
With the accumulation of ice comes the added risk of slipping and falling or losing control of a vehicle. With the use of ice melt products, you can greatly reduce these risks. Simply visit your local landscape and winter products store, such as Legends Landscape Supply, and find your choice of ice melt products. They come in a wide variety, including rock salt, de-icers and liquid salt. We highly suggest using a product that is both pet-friendly as well as environmentally-friendly, to ensure that both your landscape and furry friends are safe and sound.
Shovel the Snow
Reduce the risk of trips, slips and falls by keeping snow to a minimum. Shovel your walkways, porches, steps, driveway, and surrounding sidewalks to ensure that the way is clear for both drivers and pedestrians. A durable and ergonomic shovel should do the trick and can often last for multiple seasons.
Pro Tip: make shoveling easier by starting as soon as the snow begins to fall and continuing throughout the snowfall. For best results, we suggest heading back outside to shovel every 30-60 minutes. This reduces the amount of snow that is able to build-up on your property at once. The less snow you have to shovel at once, the quicker and easier it will be!
Install Exterior Lighting
During the winter in Ontario, it tends to get darker sooner, often starting around 4 P.M. While many of us are still running errands and returning home well after 5 P.M., installing exterior lighting can help to illuminate the way. By lighting driveways, walkways, gardens, and porches, you can improve the safety of your home through added visibility. If there is an object in the way or a patch of ice, you are more likely to see it once some light has been shed.
To take things a step further, consider adding a motion-detecting light. This will add a burst of visibility as you approach or exit your home.
Invest in an Outdoor Heating System
While shoveling snow and reducing ice from walkways and sidewalks can prove to be a quick and easy job, it's shoveling the driveway that often takes up most of our time. Save your time and energy by investing in an outdoor heating and snow melting system, which can be installed directly underneath your driveway! As the snow begins to fall, your heated driveway will kick into action, effectively melting and evaporating it to ensure safety, for both your loved ones and visitors alike.
Legends Landscape Supply
Did the information in this article prove to be useful to you? For more, visit our blog and resource centre. To make the most of your home and landscape, visit our experts at Legends Landscape Supply in Burlington today. Our team of experts can help you find the winter solutions you're looking for, from bagged ice melters and shovels, to eco-friendly ice melters and everything else in between.