New Year's Resolutions to Help You Maintain Your Landscape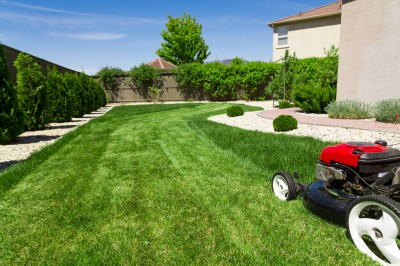 Is it time to bring your backyard back to life?
In the blink of an eye, all of the hard work that you put into your landscape can soon be forgotten, without the proper maintenance and upkeep, that is. Once you have perfected the exterior of your home and brought your dream landscape to life, it's important that you nurture and care for it with regular maintenance.
Make 2020 your year for landscaping with the following New Year's resolutions.
Spend More Time Outside
The more time you spend outside, the more time you have to admire the hard work you have put into the exterior of your home. Your landscape design is to be admired, after all. The more time you spend enjoying it, the more motivated you'll be to maintain, improve and add to it. Especially with luxury additions and features such as gas fire tables, comfortable patio furniture and high-quality landscape lighting. You'll likely find your creative juices flowing as you brainstorm your next landscape project.
Cook Outside
What better way to cook and serve dinner, than from the comfort of your very own outdoor kitchen? The installation of high-quality countertops, ovens and a grill or BBQ can create the perfect space to cook any time of the day. Spending time cooking and eating in your outdoor living space can present you with the perfect opportunity to notice when a little TLC is required. If the lawn is looking a little dry or the garden edging needs a repair, you can notice right away and ensure that the right steps are taken to bring it back to life.
Get Active
Physical activity is key to a healthy lifestyle. The perfect solution to low-impact activity that is both effective as well as meaningful, is gardening and landscaping. Challenge yourself to get outside, stay active and enjoy the fresh air with regular gardening and landscaping. Not only will you enjoy the calorie burn and more toned muscles, but your lawn, garden and landscape will look fantastic too!
We suggest gardening and landscaping in the early morning or after dinner. This will keep you out of the direct sunlight and keep you cool during the warm summer months.
Set a Schedule
A little organization and planning can sure go a long way, especially when it comes to your landscaping. Make the exterior of your home a top priority this year by scheduling time to care for it regularly. Whether you spend one afternoon a week tackling all of the odd jobs or one hour a day to spread it out, creating a schedule can help to keep you on task and ensure that nothing is left behind or forgotten.
Work with Professional Landscape Designers
Is your landscape in need of a makeover? Utilize the experience and craftsmanship of a professional landscape designer to bring the exterior of your home back to life. Professional landscapers and landscape designers can look at your home from a different perspective, helping you to maximize its potential and make it the very best that it can be. Not to mention that the connections and relationships that most professional landscape companies have, meaning that the sky is truly the limit with what your backyard can offer.
To make the most of your landscape this year, contact the specialists at Legends Landscape Supply in Burlington. We can help you tackle a variety of endeavors, from revamping your patio with ease with help from our useful stone area calculator, to finding the right interlocking stone and pavers. Our experts are here to help.