The Perfect Fall Décor to Complete Your Landscape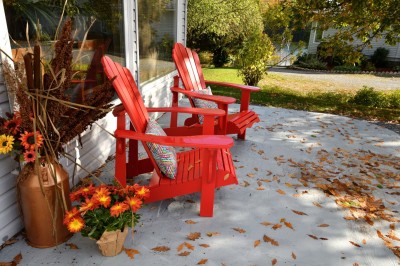 Are you excited for fall?
Many homeowners have their porches and lawns decorated for this cozy season long before the first leaf even begins to fall. While there's nothing wrong with that, believe us, we love fall too but it can help to take a look at what other homeowners have done for their outdoor fall décor first. With a little research, you can jump on the latest trends and have the best-looking porch on the block. In this article, we're going to take your fall décor one step further and help you find the right essentials for your unique landscape.
Areas to Decorate
Before you head to your local décor or home store, you should have a good idea of which areas you would like to decorate. You've worked hard to perfect the exterior of your home, which makes it all the more important that you add just the right accents and make the space really pop!
Here are some of our favourite spots to add fall décor to:
Your unique landscape may include these features or have other places that are begging for some décor. So long as the décor is added safely and doesn't damage your landscape, you should feel free to decorate as you see fit!
Fall Décor Ideas
Potted Mums
Nothing says fall like potted mums. These seasonal flowers are available in many autumn colours, including burnt orange, burgundy and yellow. Planted or potted, mums can add a pop of seasonal colour to any part of your property, from the front porch and steps, to your walkway and garden.
Layered Doormat
Perfect for the front or back door, a fall doormat can set the tone for the atmosphere of your home. There are many fall-themed doormats with fun sayings or seasonal images, from "Hello Fall" and "Hello Pumpkin", to "It's Fall, Y'all" and "It's Pumpkin-Spice Season", and many more. Even a simple "Welcome" mat will do the trick, with added versatility to be used throughout the year.
By placing an additional, larger doormat underneath it with a seasonal pattern on it, you can really maximize the effect it has. Swap out your layered doormat depending on the time of year and help your smaller mat to really stand out. You could find a simple orange mat or opt for a patterned one for added flare.
Hay Bale Focal Point
Make the entryway of your home pop with a hay bale and seasonal décor. Start with a hay bale or two, either stacking them or placing side-by-side. From there, add accent pieces such as pumpkins, corn stalks, lanterns, or those potted mums we talked about earlier. This focal point can be placed easily on your front porch or patio area, garden, walkway, outdoor kitchen, or outdoor fireplace area.
Pillows & Blankets
Do you have a fire pit, outdoor fireplace or simply a lounge area where you spend time with the family? Grab a warm cup of coffee and settle into your outdoor furniture around the fire, complete with your autumn throw pillows and blankets. Watch the leaves fall from the trees, as you're nicely bundled in a plaid, burgundy or orange blanket.
Front Door Wreath
After all of the hard work that you've put into perfecting your landscape, you might as well complete it with the finishing touches, like a fall wreath. Every front door needs a fall wreath! Whether you purchase one already made or make it yourself from scratch, a seasonal wreath can really add some curb appeal to your home. Leaves, pinecones, greenery, flowers, the options are endless.
Improve Your Landscape
Looking for more landscape ideas? Head to our landscape blog and resource center for more information. If the exterior elements of your home are in need of an update or upgrade, get in touch with our experts at Legends Landscape Supply in Burlington today. We are eager and excited to assist you!