Outdoor Fireplaces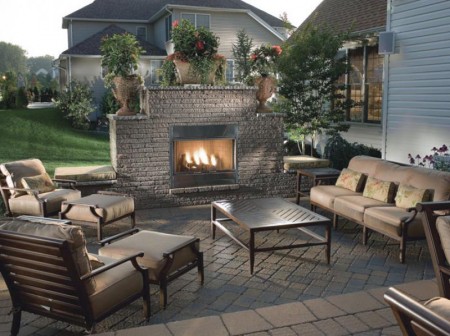 Keep Warm on a Cool Evening
Introducing a flickering flame to your patio is a great way to extend and encourage its use. It also adds character and elegant design, making your overall property look more awe-inspiring. Don't be surprised if you catch your neighbour peeking over the fence
Isokern: Affordable Masonry
This modular line of outdoor masonry fireplaces fit with your budget, no matter how small. Their simplified installation means that a landscaper (or a handy homeowner) can complete the assembly in under a day. For many people, the process of assembling firewood, lighting your kindling, and listening to the wood crackle is an important part of enjoying a fire. A modular brick option can give you all the enjoyment of a real wood flame, without the large financial investment of the traditional masonry brick-by-brick process. Instead of installing hundreds of small pieces to create your focal point, a Isokern product will be created from only a couple dozen pieces.
Regency: The Convenience of Gas
You don't have to fumble with chopped wood with a Regency natural gas model. You won't even have to worry about keeping the flame going by adding logs as the evening progresses. With the convenience of a gas fueled outdoor fireplace, your guests can have your undivided attention. All that you have to do to set the ambience for the evening is flip the on switch.
Finding the Right Place for Installation
An outdoor flame should always be located somewhere that there is natural ventilation- never in a stagnant or sheltered area. An outdoor room needs an opening of at least 30% if it has a roof.
Get Started Creating the Backyard You'll Love
Visit our showroom to view floor models and to start customizing your ideal outdoor fireplace. Our professional landscape consultants can help you make your selection, guide your DIY process, or match you up with a reputable installer.
BRANDS WE CARRY