Natural Stone Steps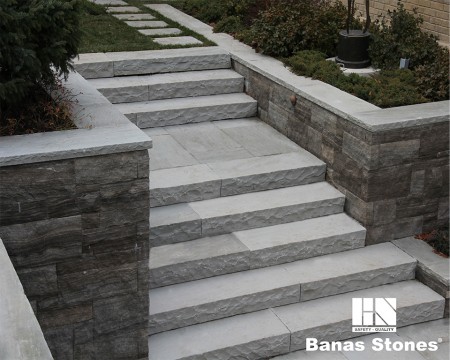 Tie it all Together
The steps leading to the entrance of your home need to form a bridge, tying the exterior design to the interior design, or at least to the entrance approach. The entrance to your home should be welcoming, and properly chosen natural steps can help create a comfortable, inviting ambiance.
What We Carry
Our Banas Stones natural stone steps are available in sizes ranging from 4ft to 6ft lengths with a 7" rise. Natural stone steps are available in sandstone, limestone, and granite in a variety of grey, brown, and black colours.
Maintenance is Required
Natural materials are not completely immune to the elements, but proper care can help prolong the life of your investment.
Sweep dirt and sand away regularly
Clean with flagstone safe products
Apply high-quality sealer (embed Interlock Sealers & Cleaners page) annually
Ask us about our Natural Stone cleaners and sealers.
Introduce Yourself
Stop by our showroom and say hello today. We're always happy to meet new people and are eager to talk about what could be done with your property.