The Benefits of a Professional Landscape Design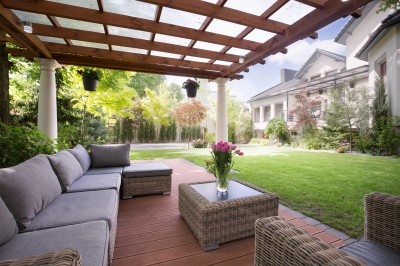 What does your dream backyard look like?
Is there bright green grass, beautiful flagstone walkways, and gorgeous flower gardens as far as the eye can see? Or perhaps you enjoy the sounds of nature, with lovely water fountains, fire pits, and even an outdoor swimming pool to encase your outdoor oasis. Regardless of what your dream backyard looks like, everyone can benefit from a professional landscape design. The right landscape design can help you achieve all your dreams, and more, in a way that works best for your specific backyard.
Backyard Entertainment
For all you social butterflies out there, a backyard fit for social gatherings might be what you're after. A professional landscape design can most definitely help you create the right atmosphere for your next party.
To create a social backyard, you may want to include:
These are of course, just a few suggestions. A professional landscape design can plan for you to include certain features in your backyard in the best way possible. Greenery, backyard layout, walkways, decks and size of the backyard will all be taken into consideration, to help you get the most out of your outdoor space.
Ultimate Relaxation
A professional landscape design can help you create the serene backyard paradise you've always wanted. You can plan to include features such as water fountains, a fire pit, flower gardens, or even a quarry within your backyard. An expert plan can help you design the layout of your new backyard, making the most of your available space.
Customize your peaceful backyard to fit all your needs and wants! Contact the experts at Legends Landscape Supply today to learn more about our quarry products, water features, and more!
Home Value
Many home improvements can increase the value of your home. To ensure that your outdoor landscape helps to raise the value of your home, a professional design can truly come in handy. An expert plan can help to ensure that proper drainage is used throughout your property to reduce flooding, improve the safety of your backyard, ensure that the features are sustainable, and more.
You can ensure that all the features within your backyard will go together perfectly while creating the right atmosphere and maintaining flow throughout the property. A backyard that features a conceptual design, solid foundation, and high-grade construction is much more likely to be a selling feature to potential buyers, thus helping to improve the value of your home.
Simple Maintenance
Any landscape design plan should factor in maintenance.
All features in your backyard should be easily attainable, so they can be reached, maintained, cleaned, and replaced without endangering you, your family, or maintenance workers.
The following products can help simplify landscape maintenance:
If you plan on including exterior lighting in your landscape design, LED lighting might be worth your while. LED bulbs can run for an estimated 40,000 hours. If you were to run your lighting system from sunset to sunrise every day, you wouldn't have to change a bulb for nearly a decade. If that isn't low maintenance, we don't know what is.
Pride and Confidence
And last but certainly not least, pride and confidence. At the end of the day, your landscape should cater to your needs and wants. Creating an expert plan can help you achieve all your hopes and desires, in the best way possible. This way, you can enjoy the beauty of your backyard for many years to come, without having to repeatedly call in a professional to update and correct mistakes that were a result of an amateur plan.
If you're a homeowner who is looking to create a stunning and professional outdoor landscape, we have a variety of resources that may be of help to you. Browse through our helpful online do-it-yourself guides to get started! These guides can help you learn all the basics when it comes to your outdoor property, from pavers and slabs to stairs, staircases, high-quality stone products, and more!
Of course, if you're just starting out, Legends Landscape Supply offers helpful landscape coaching services in Hamilton, Burlington, and Oakville! Simply contact us today to get started.