Simple Steps to Winterize Your Landscape - 2 Ways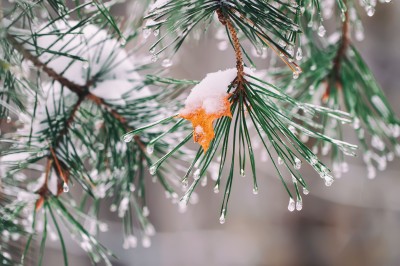 Let's face it: if you live in Canada, chances are you're going to encounter winter weather at some point. Both you and your landscape can be affected by winter characteristics, such as blistering winds, below-freezing temperatures and tons of snow to shovel.
If your landscape isn't properly winterized, the winter weather can inflict damage and harm greenery. After all the hard work that you put into your home over the spring and summer, it would be such a disappointment to let it go to waste.
Let's dig in and explore the basics of winterizing your landscape.
Why Winterize My Landscape and Backyard?
It's very important to winterize the exterior of your home, especially if you live in an area that experiences a cold, snowy winter. Imagine how it feels to go outside during a winter storm without the proper gear on. Your coat, boots, gloves, and hat help to keep you warm and provide you with protection against the elements.
The features within your landscape don't have that kind of protection. That's where the proper winterizing techniques come into play. Without suitable protection, plants can suffer from windburn, patios and driveways can be damaged, and de-icing products can begin to corrode a variety of features within your landscape. If your irrigation system isn't maintained and winterized, it can also experience a deep freeze and potentially be destroyed.
You've put so much hard work and money into your landscape and you've created a truly wonderful outdoor paradise. Let's look at some of the steps required to correctly winterize your landscape, so you can continue to enjoy it for many years to come.
2 Ways to Winterize Your Landscape
Preparing your landscape for all four seasons begins with the initial design. While you are still in the planning stages, you should take winter conditions into consideration. Especially when it comes to landscape drainage systems for springtime.
You can even take this time to incorporate an outdoor heating and snow-melting system into your driveway and pathways. With one of these systems, you can forget all about shoveling your snow and ice-filled driveway on lazy Sunday mornings in the winter.
There are steps that you can take in the summer and fall to winterize the exterior of your home.
1. Summer
Summer is the time to take preventative measures for your landscaping. This is the best time to paint and seal all wood, including sheds, decks, and other features. If there are any cracks in the asphalt, they should be filled accordingly, to prevent further damage throughout the wintertime.
All pavers, stone and concrete should be sealed appropriately, to protect from the inevitable freeze and thaw cycle, and any de-icing measures that you take.
2. Fall
If your landscape features an irrigation system, it's extremely important to have a professional perform a blowout. This will remove any leftover water in the system, preventing a deep freeze that could potentially harm or destroy the system entirely.
All above-ground ponds and pools should be cleaned and partially drained, while pipes from any outdoor kitchen should be properly tended to and treated with winterizing products. If you have any outdoor furniture, it should all be cleaned and stored away in a shed, garage or basement, or simply covered using a high-quality outdoor furniture cover. It's wise to cover your BBQ in the winter as well.
Lastly, it's time for your lawn and greenery. A winter fertilizer should be used on your lawn to help it prepare appropriately for the cold and snow. All leaves need to be raked and disposed of, while the grass should be cut much shorter than usual. These steps can help prevent decay within your lawn.
If you have any outdoor shrubs, they should be cut and maintained and then wrapped with a durable cover like burlap. At times small rodents may gnaw on tree trunks during the winter. If it becomes problematic, you can add a wire mesh around the base to prevent bark damage. Once the snow begins to melt for good and springtime is upon us, you can unwrap your shrubs once again.
Winterizing Products
If you have any questions or concerns when it comes to winterizing your landscape and the various features within, contact our team of experts at Legends Landscape Supply.
We also have a wide selection of landscape winterizing products for sale, as well as winter accessories like bulk liquid salt, bags of salt and de-icers. We proudly serve the areas of Burlington, Milton, Hamilton, and Stoney Creek, so visit us today!
LEGENDS LANDSCAPE SUPPLY IN BURLINGTON
For a wide selection of high-quality landscape supplies and solutions, contact our experts at Legends Landscape Supply in Burlington today.