Bags of Salt and De-Icers
Bags of Salt and De-Icers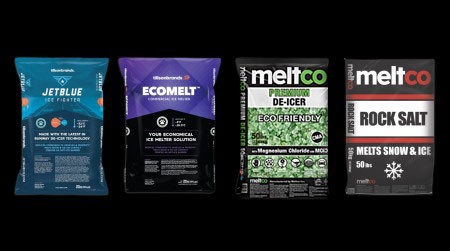 For Smaller Projects
Bags of salt and de-icer are sold in manageable sizes for the average homeowner. Most homeowners simply want to keep their walkways and driveway clear, or ease the burden of shovelling after a storm. For homeowners in less snow-prone areas, you can give your family and friends sure footing with regular use of these products.
Wallet & Environmentally-Friendly
Our products can save you up to half the money you usually pay for small bags at large department stores. We have the knowledge to tell you how to use each product to prevent overuse, which helps save the environment, and your money.
Think all salt is created equal?
Find out what exactly makes the SMART MELT™ de-icing technology in Jet Blue Ice Melter products far superior to generic ice melters below.
De-Icers
Most options are made up of one of the following:
Sodium Chloride – AKA Rock Salt, one of the most commonly used ice melters. Works well at temperatures of 0°C to -10°C

Potassium Chloride – The most expensive of the chlorides. Often mixed with rock salt.
What We Supply
JETBLUE Ice Melter™ is made with SMART MELT™ de-icing technology. JETBLUE™'s unique formulation allows for faster and longer lasting ice melting capability, while sparing your vehicles & property the corrosion and toxicity found when traditional road salts are used. Its low application rate, bright colour and superior ice melting ability will make sure you have the edge on winter's worst storms.
This 100% natural eco-friendly formulation makes meltco(tm) Premium a very safe and effective de-icer. meltco(tm) Premium De-icer is a very friendly option for snow and ice melting around children, pets, softscapes, hardscapes, roofs and vegetation. It consists of naturally occurring complex trace minerals and micronutrients in addition to the chloride family and MCi3. The MCi3 solution is formulated with CMA and organic elements extracted from seawater. Its natural ability along with minerals and micronutrients buffers the effects of chlorides on vegetation and the environment. meltco(tm) Premium de-icer has no nitrogen or phosphorus added to make it an ideal option for de-icing around any body of water. Designed for faster melting and easier spreading at colder temperatures than typical ice-melting products. The green biodegradable colorant added to the product minimizes its usage and increases its effectiveness.
Features
Enhanced with MCi3 for safe and optimum performance
Ideal for spreading
Gentle on Vegetation
Safer for Concrete, Asphalt, Sidewalks and Pavers
Minimizes Corrosion
Biodegradable Green Color Indicator
ECOMELT™ Commercial Ice Melter
ECOMELT™ Commercial Ice Melter delivers a blend of solid and liquid de-icers that meet the AMS standard as well as offering faster ice melting and residual action. Incorporated with NaCl – the most tried and true de-icer trusted by contractors and professionals today. ECOMELT™ can be used to melt down accumulated ice or as a preventative measure, applied before winter weather events to prevent the bond of ice and snow to the surfaces for easier removal later. Low application rates allow for up to 30% more coverage than highway rock salt.
meltco™ Rock Salt provides an economical solution to melt snow and ice on sidewalks and walkways. meltco™ Rock Salt is an endothermic product which lowers the freezing temperature of the surface it's applied to which simultaneously providing traction. All meltco™ products are manufactured with non-caking properties which enable a consistent, free-flowing bagged product. The specifically chosen granulation size minimizes the overall application rate and optimizes melting effectiveness.
Control the Castings
Many homeowners lose as much as 15% of the treatment they apply to a location due to casting or bouncing away from the surface. This can affect the vegetation surrounding the area as well as your winter product budget. Drop the product from a lower height to reduce bouncing. When applied correctly, good de-icers will cost less and have a reduced impact on the environment.
What Suits your Fancy?
We offer products by the bag, skid or truckload. Stop by our showroom to discuss your options with one of our experienced staff members!