7 Winter Accessories You Need to Take Care of Your Property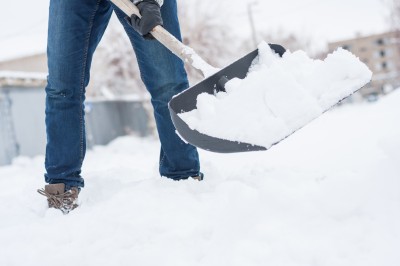 The winter season brings feelings of good tidings and cheer, there's simply no doubt about it. But one aspect of winter that has most homeowners running to the airport for a one-way ticket to Hawaii is the cold! That's right, the cold and snow is an inevitable part of the winter that many Canadians could do without. With the right tools and accessories, maintaining your property doesn't have to be a daunting task.
Whether you're looking to maintain your outdoor fireplace area or showcase those new patio stones that were installed in the summer, these seven accessories can help you to clear the way, creating a safe and enjoyable outdoor space.
1. Heavy-Duty Shovel
If you don't have a trusty snowblower, a shovel is the best way to go. Higher-quality shovels are actually built to be fairly ergonomic, with a shape that makes it easier to cut into the thickest of snowbanks, and then lift to clear the way. With shovels that are made with lower-quality materials, you risk the chance that it will break when you need it most. There's nothing worse than the base of your shovel snapping off right in the midst of a snowstorm.
If you're in need of a new shovel to start you off on the right foot this winter, visit our experts at Legends Landscape Supply in Burlington today! We have a wide range of high-quality shovels that can help you keep the snow at bay!
2. Salt Storage Bin
Ideal for melting snow and ice to keep walkways safe and clear, salt is crucial to have on-hand throughout the winter months. Leaving bags of salt can be a real eye-sore, not to mention pose a potential threat to small children, pets or wildlife who might get a little curious, especially if one of the bags is already open. Keep your bags of salt tucked away safely in a salt storage bin.
Out of sight and out of mind until you need to melt some ice, your salt storage bin can keep salt dry and easily accessed throughout the winter months. Once the winter is over, you can easily move this storage bin to a basement, shed, under a deck, or simply in the backyard.
3. Winter-Proof Gloves
Once the temperature dips to about 5°C and lower, the cold air can really nip at unprotected skin that isn't covered properly. Whether you're going outside for leisure or to perform home maintenance, it's very important to your health that you are properly dressed for the cold.
In particular, if you're shoveling snow, laying down salt, cleaning off the car, or other winter outdoor maintenance, we highly recommend putting on a pair of winter-proof gloves. Waterproof and slip-resistant, these gloves are ideal and almost crucial to have on-hand throughout the winter. You really never know when you're going to need them!
To shop from a wide selection of high-quality winter gloves, visit Legends Landscape Supply today!
4. Exterior Lighting
Following daylight savings, the sun usually tends to start setting after 4:30 or 5:00 PM. At least that's when it sets here in Southern Ontario! Once you've made it home from work, school or daily errands, there just isn't a lot of time left over before the sun sets. This makes the need for exterior lighting all the more crucial, to create a safe and functional environment for your family, friends, and passersby alike.
There are many exterior lighting options available to you. From outdoor fireplaces and twinkle lights, to in-ground lighting, motion-detection lights, and many more. To explore your options for exterior lighting, click here!
5. Salt Spreader
As mentioned above, salt can be very useful to homeowners in the winter for melting snow and ice. If you have lots of ground to cover, a salt spreader might be of great use to you. By dumping your salt into a salt spreader and then simply pushing it along long lengths of the sidewalk and bigger driveways, you can save lots of time and effort.
6. Durable Boots
Is it even winter if you aren't wearing big, clunky boots? Although not the most fashionable at times, a good pair of winter boots can make outdoor maintenance and shovelling snow a more comfortable experience. Just make sure that your boots are both waterproof and cold weather resistant!
7. Snow-Melting Technology
If you live in Canada, you're likely to encounter snow and ice at one point or another. Although not an accessory as much as an investment in your home, a snow-melting driveway can go a long way in the winter. These systems can help improve the safety of your property, reduce the risk of injury from shoveling snow, offer a long-lasting experience, and are a chemical-free solution. Not only that, these systems are quite affordable and accessible.
Learn more about the Warmly Yours snow melting systems or get in touch with our team of experts today. Legends Landscape Supply is located in the heart of Burlington, with many landscaping solutions available. From outdoor fireplaces and aesthetic patio stones, to interlock solutions, winter accessories, and much more, you can find just about everything you need to customize and maintain your landscape.