8 Best Gifts For The Homeowner or Gardener In Your Life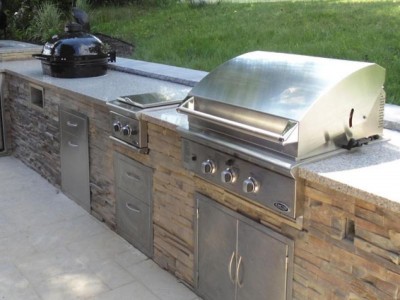 Home management isn't easy. Help out those in your life by getting them these gifts to spruce up their backyard spaces!
There's always a lot of excitement in the air when someone you know is planning their next big renovation for their home. Whether it's because they recently moved homes or are just recently finding a new hobby in outdoor home improvement, there's definitely a lot of fun to be had with envisioning what someone's new lawn design would look like.
To make it easy for those in your life who may be going through this exact scenario, you can opt to be the truly thoughtful friend this season of giving (or any other holiday that calls for gift-giving) and get them something truly useful to have around the house.
We've collated a list with help from our team of experts at Legends Landscape Supply to see what gifts would be best for the homeowner or gardener in your life.
1. Winter Salts and De-Icers
Starting things off with a gift that's more utility than anything else: Winter salts and de-icers. Many new homeowners may be unaware of the constant need to have to manage snow build-up during the winter months.
Just shoveling snow out of your driveway will not be enough when January and February hit, so make sure to have your friends back by getting them some winter salts and other de-icers that can make clearing their outdoor space and sidewalk a much easier process.
What's more, is that some of the de-icers and salts available at Legends Landscape are certified not to affect vegetation and are both environmentally friendly and "wallet-friendly" as well.
Trust us in this as while it may not be the most glamorous gift, it will definitely be the one your friend will be thanking you for once deeper packing snow starts building up.
You can always contact Legends Landscape Supply with any questions about your salt usage by calling our 24-hour salt line at 905-638-5999.
2. Professional Grade Rock Spreaders and Bins
Speaking of melting snow, some of the people in our life might not have the patience or even the ability to get cups of salt and manually spread it around the property.
Not only is this often a time-consuming task, but the inaccurate placement of salts and de-icers can just leave a build-up of the stuff without actually melting the snow around it.
Legends Landscape Supply carries a variety of professional-grade rock spreaders, normally used in commercial contexts but readily available for personal use, is fantastic in spreading salt evenly across an area while making sure you use just the right amount every time.
One of the brands being carried at the store is a renowned winter accessory brand known as Chapin, which makes several different types of winter products like "salt-shakers" and sprayers.
Feel free to contact Legends Landscape Supply with any queries on the availability of this brand or any other that you feel would be best for the person in your life managing snow on their property.
Another useful set of winter accessories to use alongside your salt spreaders comes in the form of specialized bins that can safely contain all your snow-melting salts to avoid contamination and for general ease of access when you'll need it most.
3. Sturdy and Reliable Snow Shovels, Marking Poles, and Gloves
When it comes to snow management, de-icers and salt really make up only half the conversation. Homeowners and gardeners know how tricky packing snow build-up can be, with some de-icers taking a good amount of time before they can get through the snow.
As unglamorous as it may be, shoveling snow is an utmost necessity in the winter months. Before you pick any old shovel from the hardware store, you'll want to make sure that the shovel is sturdy enough to carry several pounds of snow while being wide enough to carry a large load in one go.
The last thing your gardener friends would want is to be shoveling snow for two hours straight and only do a quarter of their driveway.
For the new and old homeowners and gardeners out there, a thoughtful and practical gift would be a sturdy and snow-certified shovel. Brands like Wolverine and Snowcaster are great choices and offer well-built shovels that can last you for several long winters, all of which are available within the Legacy Landscape showroom.
Within the same showroom are some sturdy snow gloves for shoveling out in freezing temperatures while providing good grip, as well as marking poles to better determine the starts and ends of your property.
4. Outdoor grill
Like all seasons, winter will definitely pass and give way to a green and fresh spring/summer season. As with anything spring/summer, you can expect warmer temperatures, brighter days, as well as more outdoor events as the weather permits it.
This same change in seasons can definitely give rise to a popular recurring home event that both homeowners and their close friends and family can enjoy: outdoor barbeques.
Nothing gives more credence to the rise of spring and summer than parties and gatherings in the backyard, complete with cocktails, games, and of course, a delicious meal with help from the trusty barbeque.
Of course, to actually have the barbeque, you need to have a barbeque or grill. Before you start worrying about how much this would cost as a gift, think to yourself: if you got your friend a grill, who do you think they would be almost obligated to invite every time they would throw a party or a barbeque?
That's right, getting this grill for a loved one, a family member, or a close friend is practically like getting it for yourself as well. While it may seem funny to think about, outdoor grills are usually used in these types of social occasions anyway, so a grill as a gift to one is usually a gift to the group as well.
Luckily for you, Legends Landscape Supply has a great range of outdoor barbeque systems. Their showroom has a large catalog of high-quality brands that offer different modular grill and cook systems that can best fit a homeowner's needs.
For example, Lynx Professional Grills specialize in infrared grilling with top-of-the-line brass cast surfaces, while Primo Grills and Smokers lean towards more traditional grilling with their triple function cooks stoves that can grill, oven-bake, and smoke different foods.
Whatever the choice will be, we're sure that a gift in the form of a whole grill set will be a fantastic addition to the homeowner or gardener in your life, and you'll probably benefit as well.
5. BBQ Accessories
We understand, gifting a BBQ during the holidays might be a tall task. For those who are looking for more budget-friendly options, BBQ accessories are a great option! Here are some ideas to help get your creativity flowing:
High-quality tongs, spatula or other grilling tools
Gloves, toolbelt or an apron to store utensils and keep clothing clean
Outdoor rags and cleaning accessories
Grill-themed decor for their grilling station and outdoor space
Coasters for their drink while operating the BBQ
These accessories are really just a start, as there are many holiday gifts to choose from and creative ideas out there!
6. Pizza Ovens
Let's say the homeowner in your life is already an avid griller. That would mean they would know the ins and outs of the grilling life so getting them any more grills might just be redundant. But that doesn't mean their outdoor kitchen is complete.
What's one thing that just goes perfect on a weekend night after a long day out? Pizza. What can elevate pizza even more? Having it made in your very own woodfire oven.
Those homeowners in your life with enough space will definitely appreciate you picking up the tab on a brand-new authentic pizza oven that can give the real traditional kick to a homemade pizza. The wood-fired cooking just gives a whole different aroma and taste to pizzas that you might not get out of using a traditional gas-powered oven.
Legend Landscape Supply's range of different pizza ovens, like their grill kits, give homeowners the flexibility of choosing the kind of installation that best works with their property. Fontana Forni ovens are professional-grade ovens that you can find being used in some of the best kitchens around the world, now available in your own very backyard.
You can choose between stand-alone grills or wall-installed ones depending on how best they would fit within the overall structure of your friend's home/garden. Get this brand and many others from Legend Landscape's showroom whenever you find yourself in the Burlington, Ontario area.
7. Garden Seeds (and Fertilizer)
Shifting the focus from general homeowners to more specific hobbyists, let's take a look at what we can get as gifts for those who make gardening a key part of their home management. You can always get people flowers, pots, and plants, all very good and pretty gifts but things that may not fit into the overall habit and ritual that a gardener goes through every day.
If you really want to be remembered every time your gardener friends tend to their garden, consider giving them garden seeds as well. Legends Landscaping Supply has a vast variety of garden seeds, one of the more interesting ones being grass seeds. Instead of purchasing rolled grass or patches of grass for a garden, you can join your friend's journey in developing the garden according to how they envision it.
Legends Landscaping has a wide variety of grass seeds as well, improved variants of grass that save on water, varying amounts of sun, and even issues like overseeding.
You can even choose to get your gardener friends some fertilizer as well, though we might suggest getting them the garden seeds alongside as to not take your fertilizer gift as an ill-advised joke.
8. Outdoor Lighting Fixtures
One of the final gifts we would recommend is something that's truly unique to homeowners and gardeners alike. Once your friends get their driveway cleared, their outdoor kitchens set-up, and even their gardens tended just right, they'll need help being able to keep their hard work visible at night.
Dragging the house lamp outdoors isn't the best thing to try and do, and lighting candles just don't work when the weather might not be on your side.
Legends Landscape Supply has a wide variety of outdoor lighting landscape fixtures that can illuminate the outdoors in an efficient and smart way. Most of their LED lighting can last thousands of hours on a single bulb, reducing the need for consistent changing, as well as the ability to change colors and brightness levels for the right kind of aesthetic design the homeowner and gardener might be looking for.
Moreover, homeowners and gardeners don't need to worry about adverse weather events as most of these bulbs are rain-ready and sturdy enough to maintain brightness in different environments.
Getting this gift for the homeowner or gardener in your life ensures that every time they turn the lights on, they'll be thinking of you.
Final Words
Getting the right gifts for homeowners and gardeners can be tricky. You can opt for standard housewarming gifts such as a stack of towels or a new kitchen appliance, but if you really want a gift to stick out, you need it to be useful for the person you are giving it to.
Some of these gifts may not be the most glamorous, but homeownership and gardening is rarely clean-hand job anyway. Getting down and dirty to make sure a home is maintained just right is essential to being a homeowner and a gardener, so being that friend that takes that into account will definitely put you in a different league entirely as a gift-giver.
If ever you're still curious about other gifts you can get your homeowner and gardener friends, feel free to visit Legends Landscape Supply for even more gift ideas for home improvement such as steppingstones, masonry, water features, and other general gardening accessories one might need. Feel free to visit their showroom at 1150 Heritage Road, Burlington, Ontario, or call them at 905-336-3369.