Show Off Your New Garden This Victoria Day Long Weekend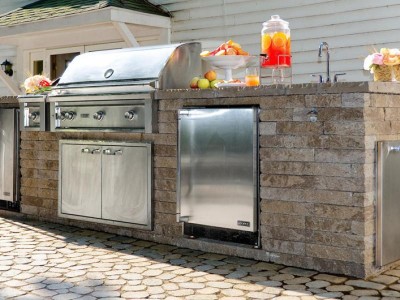 The Victoria Day long weekend is fast approaching. It's the first long weekend of the spring where you can spend it outside in some beautiful sunny weather, have friends over for some drinks and a BBQ and show off the new thriving garden you've worked so hard to create. The weekend works out perfectly: On Saturday, you can soil yourself in the garden, making sure that it looks its best. Then, on Sunday, you can prepare some drinks in advance for your guests. Monday afternoon can be spent cooking on your outdoor appliances before enjoying an evening meal under the stars (and fireworks). With that in mind, here's a day-by-day breakdown of what you do this Victoria Day holiday weekend to get your garden – and your feast – ready for your guests. And before we forget, Victoria Day is celebrated in honour of Queen Victoria's birthday (which was May 24, 1819, by the way).
Saturday – Getting the garden ready
Top dress your garden As a savvy gardener, you've probably already top dressed your garden with high-quality triple mix soil earlier in the spring. However, if you want to give your garden that newly-planted look for your guests, you could always add another layer of soil to it. Not only will it spruce up your garden's appearance, it will also make it healthier too by:
Combating thatch
Providing protection from the super-hot summer temperatures which are on their way
Making the soil around your garden's roots stronger
It's also very convenient to top dress your garden for Victoria Day too. That's because you can have balanced, nutrient-rich top soil delivered right to your home. It can be there for Friday night, and ready for you to soil yourself on Saturday morning – in time for Sunday and Monday. Lay down fresh mulch If the mulch in your garden is looking old and dull, bring it back to colourful life by laying down fresh mulch. New mulch looks good – and can help your garden thrive by:
Suppressing weeds
Adding nutrients to the soil
Keeping moisture in the ground
Protecting against erosion
Insulating against temperature changes
Victoria Day – mid-spring – is the perfect time to place down mulch for the summer. That's because of its ability to help keep in moisture, which will be at a premium during the hot, dry summer months.
Sunday – Preparing your drinks
There's always the tried and tested drink option of heading to the beer store and getting cases of your favourite brew. And really, you can't go wrong with that at all. However if you're looking for something different, there are Victoria Day cocktails you can prepare in advance and then serve at mealtime. Here are a few recipes which are easy to make and delicious too.
Palm Bay Beach Coolers Ingredients:
Palm Bay Vodka Coolers (from the LCBO)
Blueberries
Raspberries
Strawberries
Ice
What to do:
Mush a few berries in a glass
Add ice
Fill with the Palm Bay Vodka Cooler of your choice
Stir
Enjoy
Victoria's Day Delight Ingredients:
6 raspberries
½ oz of maple syrup
2 oz gin
¾ oz lemon juice
1 can of club soda
Ice
What to do:
Mush raspberries, maple syrup, gin and lemon juice into a shaker
Shake very well
Strain into a tall glass filled with ice
Top with club soda
Enjoy
Monday – Fire up the grill and BBQ
The garden looks great. The drinks are made and chilled. Now it's time to spark the BBQ (and a fire table if you have one) and cook up a mouth-watering meal to serve to your guests. What's great about cooking on the BBQ or in an outdoor kitchen is that you can go from the traditional to the extreme, and it will all turn out wonderfully and taste great. Here are two recipes, one traditional and one off the beaten path for you to try this Victoria Day long weekend: Traditional: Grilled Chicken Bruschetta Ingredients:
4 boneless chicken breasts
¼ cup sun-dried tomato and oregano dressing
Finely chopped tomato
½ cup shredded Italian cheese
¼ cup chopped basil
What to do:
Heat BBQ to medium heat and cover half with heavy-duty tin foil
Drizzle chicken with 2 tbsp of dressing and chill in the fridge for 10 mins
Place chicken on uncovered side of BBQ
Grill chicken for 6 minutes
Mix remaining dressing, tomatoes, cheese and basil
Turn chick over and place on in foil
Add tomato mix on top
Grill for 8 more minutes
Enjoy
Unique: Grilled clams and fried garlic Ingredients:
24 scrubbed littleneck clams
¾ cup extra virgin olive oil
Lemon juice
8 peeled garlic cloves
½ tsp hot pepper flakes
What to do:
Heat up your grill
Brush clams on both sides with olive oil
Cook covered on your BBQ until the shells pop open
Pour lemon juice on a large plate that can hold the clams
Place clams in the plate
Heat olive oil on the BBQ (in a skillet) and add the garlic and pepper
Stir olive oil mixture and pour over clams
Enjoy
Let us help you get your garden ready for Victoria Day
If you want your garden looking spiffy for your Victoria Day garden party, let us help you. Contact us and tell us what you want to do and we'll help you make it happen in time for the long weekend.