Mulch 101: Planning, Landscaping and Maintenance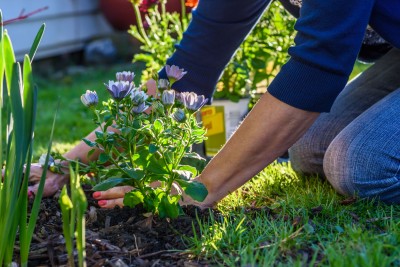 Gardens come in all shapes and sizes. With so many options for your garden, it can be hard to decide which design is right for you. One option that you may consider is adding mulch. After you have planted flowers or plants effectively, mulch can act as the final touch. For more information about mulch and to discover how it can bring both style and functionality to your landscape, read on!
Reasons to Use Mulch
Mulch is made of many materials and is laid over the surface of soil to act as a covering. Available in both organic and inorganic, there are many different kinds of mulch that you can add to your landscape, including shredded or clipped bark, compost, composted manure, grass clippings, and straw. Here at Legends Landscape Supply, we focus mainly on organic bark mulch.
Organic bark mulch is mainly used for garden beds, shrubs and trees. These organic products will eventually decompose and will have to be replaced. This gives you some wiggle room to play around with the different kinds and colours.
Did you know that there are many great benefits to using mulch in your garden and landscape?
It can help to:
Improve the fertility and overall health of flower beds, tree beds and vegetable gardens
Boost curb appeal and add contrast to your landscape
Suppress the growth and appearance of weeds
Protect against the effects of erosion
Insulate against temperature changes
Maintain moisture in dry conditions
Repel insects
Adding mulch to a vegetable garden, flower garden or tree can help achieve a finished look. Available in many colours, you can match your mulch to the elements of your home and create a completed look.
Steps to Add Mulch to Your Landscape
Is mulch the right solution for your landscape? Here are a few simple steps to help you get started and lay the right mulch effectively.
Create a layout and design for your landscape
By creating a layout and designing your outdoor landscape, you will have a better idea of what areas will need mulch and exactly how much to buy. As a general rule of thumb, any plant should be planted in 80% soil and 20% mulch, to give you an idea of mulch to soil ratio. Use our mulch calculator to find out how much you will need for your project!
Determine what purpose your mulch will have
The reason(s) why you want to add mulch to your garden will have a significant impact on the kind that you purchase. Some are created to hold colour nicely, which is great for aesthetic purposes, while others can help to repel insects and suppress weeds.
Shop for mulch at local landscape stores
It's time to visit local landscape stores to find the right mulch for your garden. While you're there, it provides a great opportunity to find any other last-minute landscape supplies that you may need. If you have any questions, ask one of the associates at the store. They are experts in everything mulch and would be happy to help, especially the team at Legends Landscape Supply in Burlington.
Lay the mulch in your garden or landscape
Once soil has been laid, flowers have been planted, the ground has been watered and fertilized, it's time to add the mulch! In order for mulch to be effective, we recommend ensuring that it is about two to three inches thick. If you have a large surface area to cover, try dumping the bags of mulch into a cart, wagon or wheelbarrow, and then laying it with a shovel, trowel or your hands.
Maintain the mulch throughout the season
If any weeds happen to pop up throughout the season, pull them up by the root immediately and discard. If your mulch begins to thin away, keep a few extra bags on hand in a shed and lay it as needed. When cutting the grass, be sure to send lawn clippings in the opposite direction – or you'll be stuck picking grass out of your mulch piece by piece!
Mulch at Legends Landscape Supply in Burlington
At Legends Landscape Supply, we offer the following mulch varieties:
Cedar Mulch
This mulch is double shredded to create a uniform product that resists moving after installation. It resists insect and weed infestation when installed deep enough.
Black Cedar Mulch
Double-shredded cedar mulch that is died black for a sleek appearance. This natural product holds the black die longer than other hardwood black mulches. Hardwood often can fade to light grey by the end of even just one season. Black cedar can be fluffed up with a rake and will hold colour much longer than hardwood.
Pine Mulch
A special mixture of bark from this year and last year's product. It is a dark brown, nutrient-dense material. It has been slightly decomposed, giving it the rich dark colour and instant nourishment for your plant material. It is also a very reasonably priced product, because Legends buys a lot of this mulch in bulk.
Visit Legends Landscape Supply Today!
For more information or to find the right mulch for your garden, visit our experts at Legends Landscape Supply in Burlington today. Our team of landscape and backyard leisure experts would be more than happy to help you find the right solutions for your garden and landscape.
In fact, starting Spring 2019 we are offering our exclusive super sacks! Get everything you need for your mulch by ordering a super sack today. Not to mention that until the end of June 2019, when you order more than one super sack, you will be entered into a draw to win a free Big Green Egg! It doesn't get much better than that.
But it doesn't just end with mulch and gardens, we offer a variety of other products and services!
Landscape tools and accessories
Outdoor lighting solutions
Stone patios
Landscape drainage
Outdoor kitchens
Fire and water features
Landscape coaching services
Visit us today at 1150 Heritage Road in Burlington, Ontario to get started.