How To Maintain Your Patio Stones - 3 Best Tips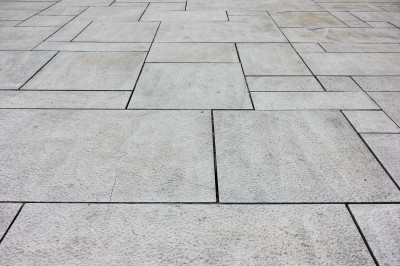 The right patio stones can improve your landscape in many ways. From increased functionality and a boost in curb appeal, to a raise in the value of your home and many others, there are many benefits to installing patio stones.
Once installed, regular maintenance is key to ensuring that your patio stones last for many years to come. In this article, we walk you through the steps to maintain, clean and care for your patio stones.
Patio Stone Maintenance - 3 Steps
1. Cleaning
Cleaning your patio stones can help to prevent the build-up of dirt and debris, while improving the overall appearance of your walkway or driveway. First use a leaf blower to remove any surface dirt or leaves from the area. Next, you will want to give the stones a deep cleaning.
We suggest using a garden hose, power washer or garden sprayer. If you are going to use a power washer, we suggest attaching a surface cleaner, as it can evenly distribute the water. Start at the point closest to your home and work your way out, pushing the dirty water to the sidewalk.
2. Prevention
Maintenance begins with prevention. While there are many solutions available, we suggest using polymeric sand in between the cracks of each stone or paver. This is because polymeric sand can prevent the growth of pesky weeds from in between stones and insects from living in between the patio stones, which can lead them directly to your home.
After you have thoroughly cleaned your patio stones, it's time to add the polymeric sand. Let your patio stones dry completely before adding the polymeric sand. Distribute the polymeric sand evenly throughout the patio stones and then sweep into the cracks and crevices.
Once swept away, use a garden mister or hose to spray down the area. The polymeric sand will absorb the water and then harden in between the grass.
3. Weed Removal
It's best to remove weeds prior to applying the polymeric sand. Physically removing the weeds can most definitely get rid of them quickly, but for longer-lasting results, you may need to use a product to kill them. There are many chemical products available to you that can offer long-lasting results.
If you are looking for a solution that doesn't involve the use of harsh chemicals, we have the answer for you. Add a combination of water, dish soap and white vinegar to a spray bottle. When the sun is hot and bright, spray down the weeds with your solution.
Most homeowners notice a difference within 24 hours, but it may take up to a week or more for better results. We always suggest adding the solution as the sun is reaching its peak, as this can help the weeds to absorb the mixture faster.
Legends Landscape Supply
Visit our blog for more information to help you make the most of your landscape. For the best selection of patio stones for sale in Burlington and surrounding areas, visit Legends Landscape Supply today.
From flagstone to drainage stone and everything else in between, our landscape experts can help you find exactly what you're looking for.