4 Best Benefits of Using Rock Salt This Winter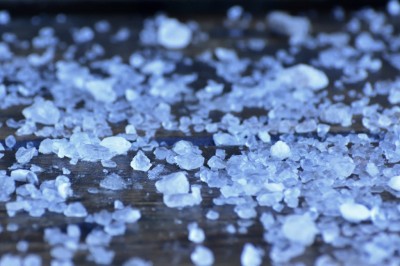 Break out your winter jackets and put your snow tires on, winter is practically here! Welcome to the season of twinkle lights, cold mornings, snowy days, and even colder nights. With winter, comes the build-up of snow, ice and everything in between on our sidewalks, front lawns and roadways.
An effective method to keep your walkways, driveway and roads clear of slippery ice and snow, is rock salt. In this article, we're going to walk you through the many benefits that come along with using rock salt in the winter.
1. Safer for Pedestrians
Whether you're walking to work or simply taking a jaunt around the block, when the snow and ice aren't cleared from the sidewalk it can increase the risk of slips and falls. While it is the responsibility of the homeowner to clear the snow and ice from the sidewalk in front of their house, the laws can fluctuate depending on the municipality and province.
In the City of Burlington, although sidewalks will be plowed by the city within 18-72 hours depending on your location, you are still liable if someone were to slip and fall outside of your home. As a general rule of thumb, homeowners should aim to have the snow and ice removed from their sidewalk, walkways and driveway as soon as possible once the snow begins to fall.
No matter how frequently you shovel or how much effort you put into clearing away the ice, it may seem as though some is always left behind. Sometimes it falls faster than you can clear away, which is when bagged rock salt can come in handy.
Rock salt lowers the freezing temperature of water, which can effectively melt the ice. So even if you aren't able to have it all cleared, the rock salt may be of use.
By clearing away snow and laying down some rock salt, you can create a safer environment for pedestrians who are walking by or visiting your home. Especially for those who have physical limitations.
2. Fewer Accidents
After the roads have been cleared of snow, road salt can be used to ensure that any snow or ice left behind melts quickly and effectively. By keeping roadways clear of snow and ice, the risk of motor vehicle collisions is reduced, helping to prevent accidents, protect pedestrians and even save lives.
3. Cost-Efficient
For most homeowners, a few bags of salt are often required per season, depending on the surface area they need to cover and the number of times that they need to use it. When comparing these costs to the cost of a lawsuit due to a pedestrian slipping and falling outside of your house, the costs are greatly reduced.
In general, a bag of rock salt costs about $5.00 - $25.00 per bag, depending on size and quality. For instance, some bags of rock salt are labeled as pet-friendly or won't harm your lawn, which can raise the price slightly.
4. Easier on Your Body
Depending on your physical shape, shovelling snow may be a bigger job for you than others. While those who are in their physical prime may find shovelling an easy job, others who aren't in shape, elderly or have physical limitations may not be able to shovel as easily.
Even for those of us in the best shape of our lives, shovelling snow for hours and hours can take a toll.
With the help of rock salt, you can give your body a well-deserved break, while still ensuring that your sidewalk, walkways and driveway are clear and safe for others to walk across.
Legends Landscape Supply in Burlington
Are you looking for rock salt for sale in Burlington, Hamilton and Oakville? Contact our team of seasonal experts at Legends Landscape Supply in Burlington today.
We can help you with your residential or municipal needs, with individual bags of rock salt for sale or bulk orders of up to 22+ ton loads for delivery.
We have a wide selection of bulk road salt, bulk liquid salt, bagged salt, deicers, and winter accessories to help you create a safer environment for all.
Call our 24-hour salt hotline today: (905)-683-5999.