Backyard Landscaping Trends You'll Love for 2023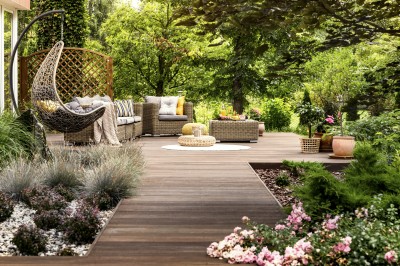 Is it time for a backyard makeover?
With the start of a new year comes motivation to overcome challenges, achieve goals and make lifestyle improvements. For some, this might just involve the leisure and entertainment space located in the backyard. If you're thinking about giving your backyard some much-needed TLC this year, you just might want to include some of the top trends making a statement in 2023.
2023 Backyard Trends
It's time to create the magical backyard retreat you've always wanted. It all begins with a little inspiration, so here are some of our favourite landscaping and backyard trends for 2023!
Low Maintenance, High Quality
Have you ever purchased an item for your home or backyard, only to have it go into the garbage months later? Not only are these cheap and low-quality investments a waste of time, they're a waste of money as well. In 2019, we're happy to say that investing in higher-quality fixtures, furniture and accessories is becoming all the rage. Not only do these higher-quality items offer enhanced longevity and usage, but they generally require less upkeep as well.
For instance, lower-quality patio stones and interlock might cost less up front and seem to be an ideal solution, but most often they will have to be replaced sooner than higher-quality ones. Especially when they have to endure harsh Canadian winters.
Destination "Staycation"
Who wouldn't love to have a vacation in their own home? Avoid the stress and cost of travel by creating a tropical paradise in your own backyard, one that's geared toward leisure and relaxation.
To complete your backyard destination "staycation", you'll need to equip your backyard with a:
Hot tub and/or swimming pool
Gazebo
Patio or deck area
Outdoor sound system
BBQ
Patio furniture set
Set of outdoor lounge chairs
Outdoor bar and mini fridge area
Hammock
Outdoor fireplace
Set of outdoor lights
Fire pit
A combination of these backyard additions will make you feel like you're in the tropics on a relaxing getaway, instead of in your own home!
Privacy
Even if you have a great relationship with your neighbours, everyone needs a little space every now and then. Avoid awkward eye contact and small talk about the weather with a proactive approach. Planting full bushes, tall trees, elaborate flower gardens, or incorporating a taller fence or privacy screen can help enhance privacy and create a more secluded atmosphere.
Flawless First Impressions
In 2019, it's all about the "wow factor". Making an upgrade here and there is great, but each improvement that you make should be contributing to the bigger picture and overall design and layout of your backyard. When you plant flowers, invest in furniture, accessorize, or improve the landscape of your yard, you should first take the entire backyard into account and visualize how it will affect the aesthetic of the backyard as a whole.
Unique Floral Arrangements
If you can make a statement with the flowers and greenery in your backyard, now is the time to do it. Think bursts of colour combined with different pieces of greenery throughout your backyard. Potted plants are also a great way to go, as the pots you choose can add colour and style to the overall arrangement.
Legends Landscape Supply in Burlington
Before you get started with your new and improved backyard design, why not speak with the experts? At Legends Landscape Supply in Burlington, we have a team of expertly-trained backyard design and landscaping professionals that can help you get started on the right path. Not to mention, find all of the right products and essentials. From outdoor fireplaces and patio stones, to interlock solutions, pavers, garden edging, and so much more, to make your backyard a truly one-of-a-kind masterpiece!