How to Make Your Backyard Look Beautiful on A Budget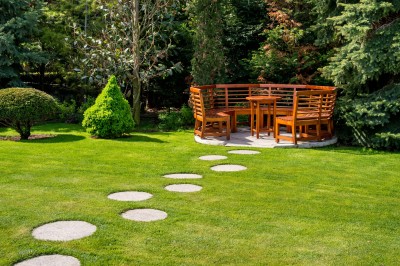 You don't have to break the bank to beef up your landscape.
Whether you have a small yard or an acreage big enough for a football team, creating the perfect outdoor oasis doesn't have to come with a high price tag. With a little effort and a lot of creativity, you can have a beautiful backyard complete with flower beds, garden paths or water features that are guaranteed to turn heads.
Are you inspired? Keep reading for our budget-friendly landscaping tips.
Define Your Space
Deciding what space you want to create and clearly defining it will make a big visual impact on your yard. Are you looking to create a quiet retreat? Do you want a great entertainment space to enjoy with your friends and family? No matter your dream backyard, a little planning is the best place to start.
Write everything down that you would like to use your space for and use that as a springboard for your patio and landscape design.
Get Creative with Pavers and Ground Cover
Do you have unused ground space that you'd like to cover up? Why not use recycled or broken pavers in a mosaic pattern of your choice? This is a great landscaping idea that creates great visual impact, especially when you have plant moss or creeping sedum between the seams for contrast.
The combination of the two materials means you need less of each, saving you money. This also works for creating a pathway throughout your yard.
Plant with Perennials
Perennials make a budget-friendly flower choice, simply because they return annually and look gorgeous in a mixed bed or flower garden. Unlike annuals, which are planted and live for only one season, perennials can live for 20 years or more. Decide on one of two different design approaches when landscaping with flowers — a one-colour floral garden or a combination of colorful perennials.
Great, modern perennials for your yard include:
Bleeding hearts
Catmint
Coneflower
Coreopsis
Daylily
Hosta
Jupiter's beard
Add Planters
Planters are a fantastic and useful addition to your backyard. They can add a flash of colour to your backyard or height and drama, by being planted with trees or shrubs. Some great ideas for planters that you might already have at home are wine crates or barrels, tires or old pallets.
To mix things up, why not paint your planter a bright, bold colour?
Try a Trellis
While they support your plants, a freestanding trellis provides an interesting focal point for your backyard. Place one at the back of the garden or use it to mark an entrance to a sitting area or vegetable bed.
Make sure you think about what kinds of plants you want to grow and choose supports that are sturdy enough for the type of vines you want to plant.
Mulch it Up
Adding mulch to your landscape serves several purposes. First, it makes it harder for weeds to grow and protects plant roots from getting scorched by the sun. Second, a good, dark mulch can help make the colour from flower petals really pop. Need mulch? If you need to figure out how much mulch you are going to need for your landscaping makeover, use our materials calculator or stop by our showroom.
We've helped many of our customers in Burlington, Oakville, Milton, Hamilton and Stoney Creek create beautiful landscapes that the whole family can enjoy. If you're looking for a Burlington contractor to take your patio to the next level, we'd love to hear from you.
We carry a huge selection of patio pavers and our team of backyard experts are on hand to help you every step of the way. Contact our experts at Legends Landscape Supply for more information.