How Much Does Backyard Landscaping Cost In 2023?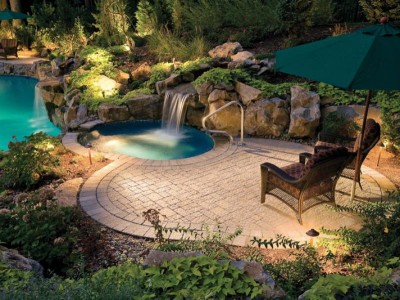 The guidelines for estimating the cost of backyard landscaping vary widely, producing figures that range from affordable to ridiculously over-the-top expensive.
That's largely because estimates attempt to take into account so many variables – the scope of the landscaping, the size of the space – even your local market. It's important to know the cost of certain projects and upgrades before you plan too far along or start to get estimates from local landscapers.
In this article, our experts at Legends Landscape Supply will walk you through the costs of various landscaping projects and jobs in 2023, so you know exactly what to expect and aren't caught off guard.
Square foot? Percentage?
Even guidelines designed to be applied in any situation – for instance, those based on a cost per square foot – can be different based on your location. For instance, like any other service industry, the cost per square foot for landscaping is probably going to be significantly higher in areas with a higher cost of living.
Other guidelines say to take a percentage of the value of your property and use that as your basis. Some recommend a cost of anywhere from 10% to 25% of your home's value. That means if your home is valued at $300,000, you should expect an average landscaping job to run anywhere from $30,000 to $75,000.
Those are the kinds of estimates that can wind up scaring a lot of people off. And in reality, there are a lot of people with average incomes having their homes landscaped every day – which seems to refute the percentage concept since few of us have that much money available to devote to landscaping.
Solutions and ideas for any budget
While major projects involving a lot of hardscaping or in-ground pool installation may be more costly, there are a lot of landscaping projects that can be completed within just about any budget. The key is getting expert guidance from planning through execution. For many people, that expert guidance comes in the form of a professional landscaper hired to undertake the entire job.
Think about it: designing and installing landscape projects is all these contractors do. That means they can do the job right the first time, and they know all the tips and tricks that will help you get the look you want while also saving money.
They also know which plants will work in specific areas of your yard based on light and water requirements and can steer you away from plants that have picky maintenance demands.
The other option, of course, is to do it yourself. While that's a tempting option for many homeowners, the amount of time required to plan and then implement a landscaping project can be daunting, especially if you're doing it on weekends.
Even if you devote your vacation to your project (and who wants to spend their vacation doing hard labor?), the time required can still be exorbitant.
The other risk for do-it-yourselfers: Doing the job wrong and having to start all over again from scratch. Not only does that waste potentially hundreds of hours of your time, but it can also waste hundreds or thousands of dollars of your hard-earned money.
Landscaping cost ranges by project In 2023
While not every landscaping project will cost the same, based on a range of factors such as location and your preferred landscaper, these prices can act as a starting point as you plan.
Deck Build: $5,000 - $10,000, with an average of $7,500
Patio or Pathway Installation: $1,500 - $4,000
Seal, Repair or Waterproof a Deck: $700 - $2,000
Sod Installation: $1,000 - $2,000
Driveway Repair: $1,000 - $2,000
Bulk Soil, Mulch or Rocks Delivery: $500 - $800
Retaining Wall Installation: $3,000 - $7,000, with an average of $5,000
Landscape Drainage: $2,000 - $4,000
Patio or Pathway Repair: $1,000 - $1,500
Pond Installation: $2,000 - $4,000
Get advice and get it early
No matter what size project you plan for your own yard, the first step after developing your basic idea is to visit your local landscaping store to look at materials and get advice about design and implementation.
Don't wait until you're midway through before making that first visit. If you're determined to complete the project on your own, use the experts at Legends Landscape Supply to help you identify the materials and equipment you'll need to do it right the first time.
And if you'd rather spend your summer relaxing in your yard instead of labouring over it, Legends Landscape Supply also offers referrals to contractors who meet our critical standards, so you can feel confident when you hire. No matter which route you take, the time to get started is now. Give us a call today at 1-888-976-3790 or fill our online contact form for more information.
We specialize in many areas of landscaping, including but not limited to:
Contact our landscaping showroom in Burlington, Ontario to get started today, or find inspiration for your next project in our gallery.