6 Ingenious Ways to Use Your Outdoor Fireplace This Fall and Winter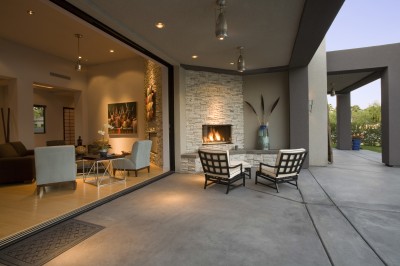 On a scale of one to ten, how much do you love your outdoor fireplace?
If you're anything like the many other satisfied customers at Legends Landscape Supply, chances are you'll say ten. Time and time again, when our past customers return, they can't help but rave about how much use they get out of their outdoor fireplace and above all, how they simply cannot imagine life without it. We've heard of many ways to utilize this modern and functional outdoor extension of the home, so our experts have created a list of the best ways to utilize your outdoor fireplace in the winter and fall season.
1. Extend the Party Outside
Hosting a fall or winter soiree? Perhaps Christmas dinner will be held at your house this year or you're throwing a New Year's Eve party that will be remembered for years to come. No matter your occasion, an outdoor fireplace can help keep the party going outdoors.
Guests can put on a coat or grab a warm blanket and some fuzzy slippers and head outside to sit by the fire. This space offers guests a place to go to cool down if it's getting hot inside, enjoy the soothing sounds of nature, catch up with one another quietly, or simply to have a moment to breathe in between conversations throughout the night.
2. Watch the Sun Set
Who doesn't enjoy a good sun set? If your property allows it, grab a blanket and sit by the fireplace this winter to watch the sun go down. The warm pinks and oranges of the setting sun can offer a beautiful experience at any time of the year, but it can become truly magical when in combination with falling snow, a mug of hot chocolate and a crackling fire.
3. Outdoor Movie Night
Here's a fun idea: bring the movie night outside by the fireplace! All you'll need is a bowl of popcorn, some bottled drinks, warm comfortable clothes, a big blanket and some pillows, and you'll be good to go! To watch your movie, you can either set-up an outdoor projector screen or bring a tablet outside with you. If more than three people are watching the movie, the projector screen may be your best bet since it has a larger screening area.
4. Family Photos
Outdoor family photos seem to be all the rage these days. The natural light combined with the greenery of the outdoors sets the perfect setting for family photos. Our experts at Legends Landscape Supply challenge you to incorporate your outdoor fireplace into your next family photo session. Depending on your backyard landscape and the installation, the fireplace could provide a modern approach to a more traditional style of photos. Sit your family down in front of the fireplace on a red plaid blanket for a timeless wintery vibe!
5. Roast Marshmallows
Wood-burning fires and marshmallows go together like peanut butter and jelly. To roast marshmallows over your outdoor fireplace, all you will need is a batch of marshmallows and some roasting sticks. To kick things up a notch, bring graham crackers and milk chocolate out with you as well to make some delicious smores!
6. Take Up Astrology
Stargazing can prove to be a rewarding hobby for many. Whether you're using a telescope and astrology guide, or you have downloaded one of the many astrology Apps available to your smartphone, discovering the constellations and learning about the planets can be a great way to get outside. The only downside to this activity, is that you need to do so at night. During the fall and winter months in Canada, the temperature can drop quite low once the sun goes down. Luckily for you, your outdoor fireplace can offer the perfect spot to cozy up and gaze at the stars for hours on end.
Outdoor Fireplaces at Legends Landscape Supply
For more information, tips and tricks to help you make the most of your Canadian backyard and landscape design, browse through the other helpful articles in our blog. If you're in the market for a new outdoor fireplace, landscape lighting, patio products, or other landscape supplies in the Hamilton and Burlington area, visit our experts at Legends Landscape Supply today.