3 Amazing Ways You Can Illuminate Your Garden Path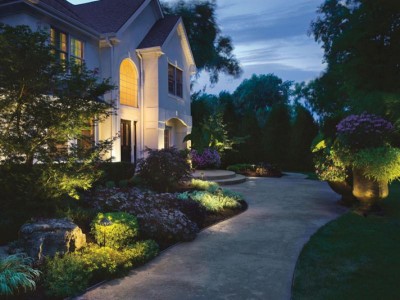 Your garden is often the centrepiece of your yard, providing beauty with a splash of colour. But at night, without proper lighting, your garden can quickly become a "dead zone", getting lost in the darkness. While backyard lighting (like a well-lit patio) is important, landscape lighting carries equal weight for making your garden look inviting even at night.
In this article, we break down three amazing ways to illuminate your garden path that are sure to bring your garden to life at night. Read on to learn more!
Install LED Lights
LEDs are some of the most versatile landscape lighting on the market, making them a perfect addition to any garden. You can use LED spike lights to highlight specific garden features like shrubs or trees or install LED strips to create an illuminated outline of your garden path. When purchasing LED strips, make sure that they are meant for the outdoors, as some LED lights are not proofed for the elements.
Use "Uplighting"
Uplighting involves installing light fixtures into the ground and directing them upwards to create a more dramatic appearance on important garden features. Similar to the way lights are used on outdoor art installations, using uplighting in your garden is a great way to highlight large garden features like trees or shrubs to emphasize their unique shape and features.
Light a Fire
Backyard fire pits are set to be one of the most popular They are great for creating a warm and inviting focal point for your garden seating area. Before investing in a fire pit, it's best to check your city or town's website to brush up on any bylaws that you must adhere to. If you happen to live somewhere that doesn't allow fire pits, a great alternative is a fire table.
A fire table is considered the safer alternative to an open fire pit, with most being acceptable under local bylaws. Usually powered by propane or natural gas, a fire table's controlled flame combined with the functionality of a table makes it a perfect addition to any garden seating area.
View Our Gallery
If you're looking for more garden ideas, be sure to view our landscape lighting gallery for inspiration on how you might want your garden lights to look. You can also see garden lights in action by visiting our Burlington showroom where our backyard experts will turn down the showroom lights to demonstrate the full effect of how our ranges of lights look in the dark.