What is Landscape Coaching?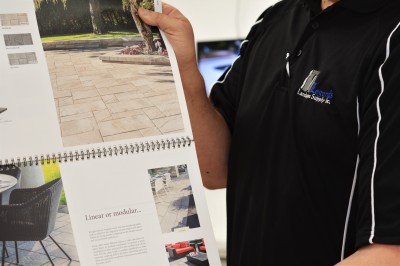 Is the exterior of your home in need of a makeover?
Most of us don't take on landscaping projects every day. If you are unsure where to begin, what to do or even what you're looking for – don't fret, you're not alone. That's why Legends Landscape Supply offers a comprehensive landscape coaching service. To learn more about this helpful service, visit Legends Landscape Supply in Burlington today, or read on.
How the Landscape Coaching Service Works
Are you interested in landscape coaching? Getting started is very simple. Simply give our Burlington landscape store a call to learn more about the service and schedule an appointment with a professional, or stop by our showroom and speak with someone in person. To ensure you reap the maximum benefit, our team will likely schedule a future appointment for you.
At your first appointment, we encourage you to bring photos, videos, dimensions, and of course, design ideas, with you. This will help our team to get a better idea of your outdoor space, so that we can help it reach the maximum potential.
To get a better idea of what you might want, visit our website and explore the online installation gallery to get started. From there, you may want to pick up a landscaping and backyard leisure magazine, explore social media platforms such as Instagram and Pinterest, or even take a walk around the neighbourhood to see what others have accomplished.
During your landscape coaching session, a member of our team will take some time to learn about you and your home. What kind of lifestyle do you lead? What are your likes and dislikes when it comes to the exterior of a home? What is the budget that you're working with? What elements and features does your current backyard have to offer?
All of these factors can play into what our experts coach you about. We can help you brainstorm a layout and design for your property, providing you with the step-by-step process to bring it to life. We can walk you through the various price points, timelines, options, and more.
If you have a question, we have an answer.
The Benefits of Landscape Coaching
Is the landscape coaching service starting to sound pretty good? Wait until we tell you about the benefits…
FREE service available to all of our customers, new and existing
Explore options, products and design styles you may not have otherwise considered
Save money with a well-executed plan and budget that meets your needs
Get answers to all of your questions, ones you may not have even thought of yet
Feel confident in your landscaping project, as an experienced professional has walked you through the process and explained all of the steps in great detail
Enjoy your backyard and home exterior for many years to come, thanks to the durable, stylish and long-lasting solutions from Legends Landscape Supply
The benefits truly do go on and on!
Contact Legends Landscape Store Today
If the landscape coaching service interests you, get in touch with our team of experts at Legends Landscape Supply to get started today. Give us a call, explore our website or stop by our showroom to get started. Not only is the landscape coaching service free, but it can help you create the backyard and home exterior of your dreams.