What Do I Need Before I Begin My Landscape Project?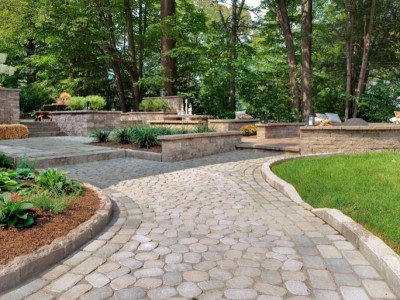 Your home is a direct reflection of you.
It's where you spend the most of your time, aside from work, school, or running errands. You can alter your home in a wide variety of ways to match your style and personal preferences. From the architecture and design of the house itself, right down to the décor and atmosphere, your home can become the perfect fit for both you and your family. So why should your landscape be treated any differently? When you improve your landscape to cater to your needs and wants, chances are you'll find a new-found source of joy.
But before you take on your next landscape project, let's take a look at what you might need.
Goals
Begin by putting pen to paper. Start by jotting down a few things you need from your backyard, and then transition to what you want from your outdoor space. From there, let your ideas and creativity flow. Once you have a decent amount of ideas, rank them from highest priority to lowest priority.
Once you have an idea of which ones are the most important, use them to create general goals for your landscape project. Here are a few examples of goals that you could include:
Curb appeal
Large entertainment space
Lawn space with beautiful gardens
Safety
Improved pool and/or hot tub installation
New deck and/or patio
Looks like you're going to require an in-depth plan to execute these goals properly and on time.
A Plan
Now that you have an idea of what you would like from your backyard, it's time to plan how you're going to do it. Unless you have lots of experience in gardening, contracting, and landscaping, chances are you may want to hire a team of professionals to help you complete your backyard landscape project.
Your team of experts could consist of gardeners, landscape designers and landscape contractors. You can discuss your overarching goals, needs and wants from your backyard project with your team, so you can create a plan that you all agree with. This plan should include your goals, budget, materials and timeline.
Alternatively, you might want to complete this landscape project on your own or with the help of a few family members or friends. In that case, it's important to go in prepared. Even if you have experience with landscaping or home renovations, a refresher can always come in handy. Our team at Legends Landscape Supply in Burlington offers landscape coaching services that can help you head into your next project completely prepared.
Download some of our online DIY guides to get started!
Materials
Now that you have a plan, it's time to get started! Begin by shopping for the materials that will help reinvent your backyard! You may want to invest in:
Plants
Hardscapes
Irrigation systems
The materials you need should be covered in your plan. Organizing the aesthetic of your backyard is most definitely something that a landscape designer or the experts at Legends Landscape Supply can help with!
Time to Landscape!
Now that you have everything you need, it's time to start landscaping!
Regardless if you're working with a team of professionals or doing this project DIY-style, it's important to keep a few things in mind. You should always be open to change and full of patience. Sometimes things don't always go according to plan, and that's okay! But the sooner you learn to accept that, the more fun you will have creating this beautiful outdoor space!
To get started, contact the experts at Legends Landscape Supply in Burlington! Our outdoor specialists can help you determine exactly what you need from your backyard and help you achieve it.