The Best Landscape Trends for 2023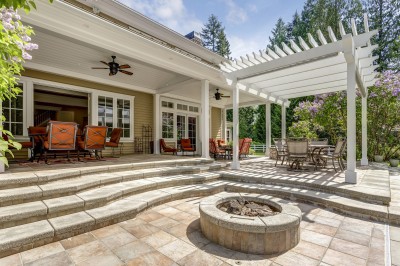 It's time to transform your landscape into something magical. With the right plan, expertise and support, you can improve your landscape and create an outdoor living space designed to last for many years to come. While there were many amazing landscape trends for 2022 and the years prior, we are especially excited for 2023, as minimalism, environmentally friendly options and spending time with loved ones truly make their mark.
Read on for some of the best landscape trends of 2023.
Outdoor Living Spaces
Spend quality time with family and friends in the comfort of your outdoor living space. Everyone loves to get some fresh air when the weather is comfortable, so why not take your next social gathering to the backyard? This landscaping trend not only helps you to spend more time with loved ones and get fresh air, but also to make the absolute most of your backyard.
Make your backyard the very best it can be with landscape features such as:
With the right atmosphere and area, you can create valuable memories with both family and friends to last a lifetime.
Minimalism
Have you ever heard the expression that less is more? In 2023, this seems to be the case more than ever before. Homeowners throughout North America are downsizing and purging their belongings left, right and centre. This trend isn't just for the interior of your home, but the exterior, too! The less clutter you have, the cleaner your outdoor space will appear. Minimalism also allows us to enjoy what has been included more genuinely, as these additions tend to be the focal point or centre of attention.
Looking to create a minimal landscape design? Start with a blank slate and then add your hardscapes. We recommend using the same hardscapes throughout the exterior of your home, as this can create balance and unity throughout your landscape. Hardscapes generally include your patio, deck, and stairs. Once your hardscapes are in place, add your softscapes slowly and strategically. Softscapes include features such as plants, flowers, gardens, and lighting. Keep your softscapes to an absolute minimum, as you do not want to overwhelm your landscape with too many colours or additions.
Lastly, add your creature comforts such as a patio table, outdoor seating, a BBQ, fire table, or even a built-in fire pit. Accessorize lightly and try your best to stick to neutral colours and 1-2 brighter colours, such as green or blue.
Remember, less is more!
High-Quality Lighting
Cheap, easily replaced lighting is a thing of the past. In 2023, homeowners are looking to add landscape lighting solutions that are designed and built to last.
High-quality landscape lighting can include:
In-ground lighting
Stair lights
Motion lights
String lights
Fence lights
In 2020, a top trend for high-quality lighting is to have it installed on your hardscapes and the sides of your home as well. By adding lights to the physical exterior of your home, you can create a more modern and professional look at night, highlighting the beautiful architecture of your house.
These lighting solutions are often installed by a professional. Speak with the specialists at Legends Landscape Supply in Burlington for more information.
Environmentally Friendly Additions
Make the environment a top priority this year with an eco-friendly landscape design. When adding lighting to your landscape, opt for LED bulbs. They use significantly less power and last for much longer than other alternatives.
When planting flowers, opt for perennials rather than annuals, as they generally require less water. Reducing your lawn size with the addition of patio stones or turf can also help you to cut back on your water usage over the warmer months. If you do wish to install an irrigation system, ensure that it is environmentally friendly and designed to conserve water.
Lastly, do what you can to help the wildlife surrounding your home. Plant flowers that help bees to thrive, add a bird fountain or feeder to attract beautiful birds to your home, and avoid using harmful pesticides when controlling weeds.
Legends Landscape Supply in Burlington
Bring your landscape back to life with help from Legends Landscape Supply in Burlington. We have a stone area calculator and interlocking stone and pavers that can help you with your next patio project, among a wide variety of other solutions. Shop outdoor kitchen essentials, gas fire tables, landscape lighting, and everything else in between.