The Benefits of Including Water Features in Your Landscape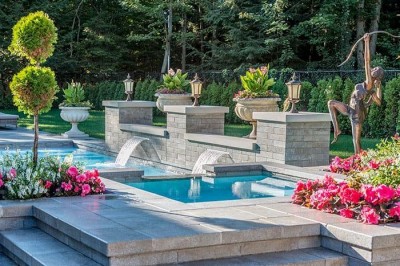 Water features can truly add a very special edge to any landscape or outdoors area. Water installations are often considered classy, elegant and stylish, but they are not only great for aesthetics and looks.
Adding some nice water features can really help you improve the positive energy of your space and even improve the quality of your life. Water is notoriously relaxing and beneficial: it is a life-giver and a truly important part of our lives. Even by simply being surrounded by beautiful water features, you might actually realize that your mood is improving greatly and even your overall energy and outlook on life.
Improved Look and Atmosphere
Living in a pleasant environment is a great step forward towards a happier, more rewarding life, and water features might actually give you the gift of balance and happiness.
In more practical terms, water features are simply a stunning addition to any outdoors space or landscape. Legends Landscape Supply offers many unique installations, including a wide variety of stunning fountains, little ponds and other water basins that look beautiful and will seamlessly become integrated with any garden space, patio or backyard. Whether you are after a modern, minimalistic look or a more rustic and nature-inspired feel, our store offers many exciting possibilities that you can tailor to your style and preferences in any given situation.
Add a Personal Touch
Water structures can add character and personality to any homes, and even tell your own story through showcasing a particular design, sculpture or feature that you actually personally enjoy or that means something very important to you. This is to say; water structures can add so much more than just a "nice new look" to your outdoors space.
Create a Zen Garden
Many people love to actually create a little "nook" in their garden area, perhaps by creating a Zen outdoors space. Such spaces are often created for purposes such as practicing yoga, fitness or relaxation. However, many people simply love Zen aesthetics and want to get something sophisticated and stylish for their homes.
Entertain Guests
People love to spend time in a pleasing environment, and this does not only apply to you, your family and your loved ones. Your guests, neighbors and friends will certainly be impressed as well.
A beautiful landscape with some amazing water structures implemented in it is also an amazing way to entertain your guests and stun them with the elegance and sophistication of your own home.
Improve the Value
Since we are in the topic of home appreciation, installing some amazing water structures and improving your landscape will surely also help you improve the sheer value of your home, which will be worth more after all the great work you put into it.

If you are looking for a more beautiful, nature-friendly, relaxing and appealing home, you are certainly going to benefit from adding beautiful water structures.

Find out more and feel free to contact us if you have any questions - we would love to hear from you and we will get back to your inquiries as soon as we can. Contact our team at Legends Landscape Supply today to get started!

No video selected.