Spend More Time in Your Backyard This Fall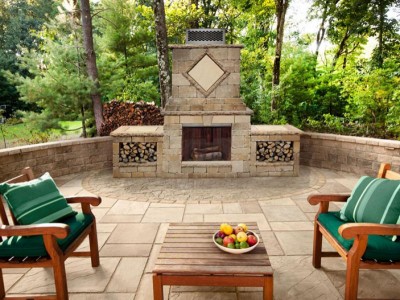 As the days grow shorter and the leaves begin to change colour, we know that fall is well on the way. While the temperature may be a little lower than in the summer time and the sun sets earlier and earlier as we move forward another Canadian winter, that doesn't go to say that you can't still spend time enjoying your backyard living space. With the right backyard landscape, upgrades and outdoor features, you can transform your backyard into the perfect environment to spend time outside during the fall season.
Let's take a look at some of the best ideas for your backyard this fall and explore the many ways that you can spend time in it.
Dine Outside
Feeling couped up inside your house? Make good use of your beautiful backyard landscape by cooking and dining outside. Cooking your food outside can help you to maintain your desired temperature indoors, especially during warmer days when you might not want to heat up the kitchen with your oven or stove.
To cook meals outside, you may want to consider adding a BBQ or smoker. These outdoor grills can be added to just about any backyard space with ease and require little maintenance and upkeep. For the expert cooks or homeowners who would like to really make a statement within their backyard space, we may recommend the installation of a pizza oven or outdoor kitchen.
These backyard upgrades can be especially helpful if you plan to entertain family or friends in the comfort of your backyard this fall. What better way to entertain them, than with a complete patio area? If you're planning to create, revamp or extend your patio area, consult with our team of experts at Legends Landscape Supply today. Our team of professional landscapers in Burlington can help you make a plan for your backyard patio and then bring it to life, so you can entertain guests and spend time outside throughout the fall.
Lounge by the Fire
Bring the heat to your backyard lounge area, even when the temperature drops during the fall. Spend time with family, friends or by yourself to relax at the end of a long day, all by the comfort and heat of the fire. Equipping your backyard with a fire feature can even add additional functionality and style.
Fire features you may want to add can include:
Fireplace
Fire table
Fire pit
The installation of a fireplace, fire pit or fire table provides you with the opportunity to create a comfortable lounge area around the fire. Enjoy the company of your family or guests long after the sun goes down.
Illuminate Your Space
Outdoor lighting can provide your backyard with a number of benefits, especially in the fall. The right outdoor lighting can help to illuminate all areas of your backyard, so you can walk through without the fear of tripping and falling because the area is too dark. Lighting your backyard space can also entice you and your family to have guests over after dark, as you will be able to see each other and surroundings more clearly. Not to mention the improved style and aesthetic that the right lights can provide your backyard with.
You may want to consider fence lights, stair lights, garden in-ground lighting, motion-detector lights, string lights, and even solar-powered lights for your backyard space. With the right lighting solutions, outdoor activities such as glow in the dark bocce, soaking in a hot tub or simply lounging by the fire can become all the more enjoyable.
Legends Landscape Supply
Is it time to transform your backyard landscape? Our experts at Legends Landscape Supply are here to help. Our professional landscapers in Burlington can help you design and create your dream backyard, whether you're updating existing features or starting from the ground up. Contact our showroom today for more information or to get started today.