Should I Install Artificial Turf Grass? Pros & Cons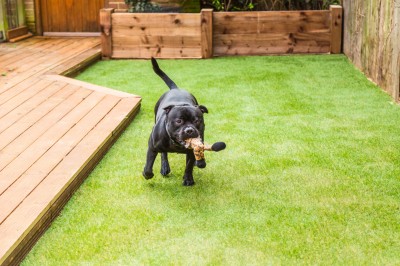 There's a lot to be said for having a beautiful, green lawn and barely lifting a figure to keep it that way. Artificial grass has grown in popularity over the last several years as more homeowners tire of performing lawn maintenance spring through fall.
The question is, is artificial turf grass right for you? This post examines the ins and outs and pros and cons so you can answer that question for yourself.
What is Artificial Grass?
A turf lawn is made of nylon, polyethylene or polypropylene that's coloured in various shades of green to mimic real grass. This synthetic material is threaded into a backing that lets water drain through it.
During installation, the backing is laid on a drainage layer, such as compacted gravel before being filled with recycled rubber or sand to keep it from blowing away.
It could be right for you if you're sick of cutting, trimming, watering, weeding and fertilizing real grass. Before you jump right in, let's take a look at the pros and cons of artificial grass.
The Pros of Artificial Grass
It helps you conserve water and that means savings on your water bill.
It takes a lot less work to maintain. With mowing, watering, weeding and fertilizing a thing of the past, all you have to worry about is raking leaves. If you have a dog, you must also rinse down areas where your pet does its business.
There are no maintenance costs. Once the grass is installed, you don't have to worry about costly water bills, maintaining lawn equipment or paying a landscaping crew to take care of it for you.
Artificial grass is quite durable. Even in direct sunlight, the green may fade only one or two percent over the years. It also stands up well to kids and pets racing around on it.
When your neighbour's lawn is brown from extreme heat or from frost, your yard will stay a fresh green year-round.
If you're used to your kids or pets tracking dirt in after playing in the yard, you'll love how clean artificial grass is. No more muddy footprints or pieces of grass on your floors!
If you have grass allergies, having artificial grass can lessen or prevent your allergy symptoms altogether.
Now that you know the facts about artificial grass, you can decide if it is the right fit for your backyard landscape.
Legends Landscape Supply
If you're interested in learning more about artificial grass, Legends Landscape Supply can help. As a one-stop-shop for landscapers in Burlington, we have everything you need in-store to make your outdoor living space look amazing. Visit our Heritage Road store for free landscape coaching or product recommendations or get in touch with us here to book your landscape supply delivery.