4 Top Reasons Your Backyard Needs a Big Green Egg Grill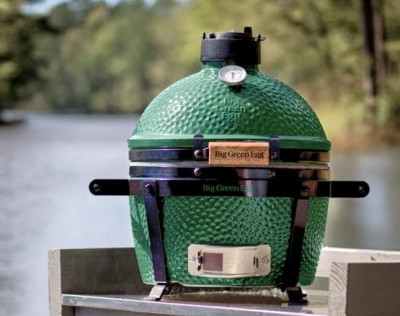 Enjoy a new approach to outdoor cooking and dining with a Big Green Egg! Enjoyed and highly regarded throughout the backyard leisure industry, a Big Green Egg can provide you with a high-quality solution to grilling that you never thought possible.
In this article, we take a closer look at some of the many reasons why your backyard needs a Big Green Egg.
1. Complete Entertaining Space
Is your backyard missing something? It might be a ceramic BBQ. The right grill or BBQ can really help to bring your backyard space together and make it feel complete. An outdoor cooking and dining option takes the functionality of your backyard further, making it the perfect spot to gather together for conversation, all while cooking and enjoying a meal.
Along with a Big Green Egg, you can bring your backyard to life with an extended deck or patio area, outdoor lights, patio table with an umbrella, comfortable chairs and a sectional, and even elements to create a functional and stylish outdoor kitchen.
2. Enjoy the Fresh Air
Feeling a little cooped up in the kitchen? Don't heat up your home this summer with your stove or oven, instead prepare your meals with help from a Big Green Egg.
You can enjoy the warm summer sun, all while cooking and enjoying your meal, rather than longingly looking out the window, wishing that you could enjoy the cool breeze and natural surroundings.
3. Healthier Alternatives
Did you know that a grill can help you to make healthier meals? When you use a grill, you limit the need for additional oil to cook your food, while still achieving a taste that the whole family can enjoy.
The next time you use your Big Green Egg, consider grilling the following:
Chicken
Salmon
Lean beef
Lamb
Vegetables, such as peppers, onions, potatoes, zucchini, and mushrooms, among others
Shrimp
What will be your first meal cooked with the Big Green Egg?
4. Long-Lasting Outdoor Smoker
With a Big Green Egg, you don't need to worry about having to replace it any time soon. Big Green Eggs are crafted using an advanced design and durable materials, so it can provide you with the exceptional quality that you know and love, and for many years to come.
To ensure that your Big Green Egg lasts, it's important that you provide the proper care and maintenance. This includes cleaning and inspecting it regularly, facilitating a repair if need be. You can also equip it with a number of accessories to maximize your experience, from covers and organic charcoal, to trays, drip pans, wireless thermometers, and more!
Legends Landscape Supply
Introduce your backyard to the Big Green Egg. Before you know it, you'll be grilling up a variety of health and delicious recipes for the entire family to enjoy.
For more information about our ceramic grills, BBQ island kits and outdoor kitchen essentials for sale, contact or visit us today. Our experts at Legends Landscape Supply would be more than happy to help.