Outdoor Décor Tips for This Spring & Summer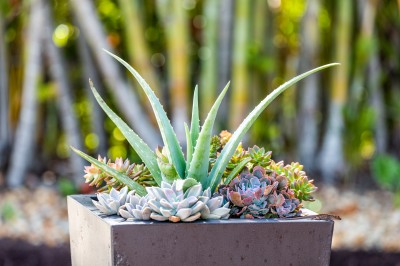 The exterior of your home can act as a personal outdoor oasis during the spring and summer months. After all of the time and effort that you have put into perfecting your landscape, it's important that you truly make the most of it. Complement, expand and better utilize your backyard and overall exterior of your home with our top décor tips for this spring and summer.
Include Natural Elements
Did you know that spending time in your backyard can create the opportunity to improve your health? Fresh air, sunshine and the open space can do wonders for how you feel emotionally, mentally and physically. To maintain and promote an atmosphere dedicated to relaxation and wellness, we suggest including natural elements.
Illuminate your backyard space with lighting that blends into the landscape seamlessly. Outdoor lights disguised as garden rocks is a great example of how this can be achieved. You can place these solar-powered, durable lights in your garden, front entryway or throughout your backyard space.
As you continue to decorate and accessorize your backyard, opt for material that reminds you of your landscape. This could include wicker furniture, potted plants and other pieces of décor with a natural aesthetic.
Keep it Minimal
When it comes to the décor and aesthetic of your backyard, less is more. An abundance of décor can lead to a cluttered space that appears overwhelming and messy. Instead, use the décor that you have to accent the areas and furnishings of your backyard, rather than overwhelm them. Spaces that are both open and minimal often create a safer and more functional environment as well.
When shopping for décor to achieve a minimal aesthetic, put more emphasis on quality rather than quantity. This will provide you with a few select high-quality pieces of décor that do your backyard justice and last for years to come.
Play with Colours and Patterns
Add personality to your landscape with colour and patterns. You can add these elements to the exterior of your home through décor such as rugs, carpets, couch and chair cushions, and flowerpots. The palette that you choose is completely up to you. A neutral colour scheme with a pop of bright colour here and there can help you to achieve a more modern and sophisticated look, while fun colours and trendy patterns can make the space perfect for family fun.
Maintain Consistency
No matter the décor that you choose, maintaining consistency is key. Take the hardscapes and softscapes into consideration when shopping from décor. This can include your deck and patio area, water features, patio stones, flower gardens and mulches, the siding of your house, and patio furniture.
Legends Landscape Supply
Do you need landscaping expertise? Is the exterior of your home in need of some TLC? Contact our landscape specialists at Legends Landscape Supply to get started today. Located in the heart of Burlington, we have a wide section of landscape solutions for sale, from soil and mulches, to patio stones, fire features and everything else in between.