Landscaping for Waterfront Properties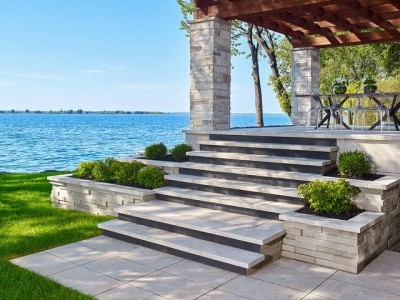 There's nothing quite like the relaxing sounds and ambiance of nature, especially near the water. Investing in a waterfront property comes with a variety of benefits. One of those exclusive benefits is the opportunity to design and create a stunning waterfront landscape. A waterfront landscape design that has been executed efficiently can add value to your home and enhance your quality of life.
Planning Your Waterfront Landscape Design
The key to planning a successful waterfront landscape design is knowing your property. As most homes aren't located alongside the water, you may have to utilize a variety of unique methods depending on the specifications of your property. With help from landscaping experts, you can properly assess your property and plan a customized design. Legends Landscape Supply offers a comprehensive landscape coaching service that can help you to successfully plan and design a great waterfront landscape.
Are there any rapid slopes from your house to the water? Or is the ground generally level throughout? The property surrounding your home on the waterfront can be susceptible to moisture and water buildup, resulting in muddy pools, stagnant water, eroded gardens or flooding. Installing a landscape drainage system could help improve the usability of your waterfront property.
During the design process, it's important to keep your needs and wants in mind. Your requirements for your waterfront landscape should be made a priority, keeping in mind that they may be altered during the planning and design process, to accommodate your properties specifications. You can also use the planning and design process to inquire about any permits you may require, in order to landscape near the waterfront.
It's important to keep in mind that your waterfront property is home to a variety of plants and creatures. It's imperative to keep an even balance between the surrounding natural habitat, and the needs of your home. By choosing to incorporate plans that are native to the area, you can accommodate many of the creatures that depend on a particular environment to survive. Investing in plants that naturally require an abundance of water to survive are typically more aesthetically-appealing when incorporated in waterfront design. Chances are, they will even require less maintenance than other plants.
The Benefits of a Complete and Creative Landscape Design
There are a variety of features you may want to consider including in your landscape design. These features can increase the value of your home, increase the functionality and usability of your property, and even enhance safety.
Walkways throughout your property can safely lead residents and visitors to and from the waterfront. Installing outdoor lighting along the pathways around your home and at the waterfront can also help to enhance safety and usability. You can enjoy the peace and serenity of the water, once the sun goes down, with enhanced safety. Adding an outdoor fire pit can provide an opportunity for entertainment with loved ones or even an intimate night by the water.
Including seating areas within your landscape design may be beneficial to you home. They will provide a place for you to sit and relax, while you truly enjoy the view and atmosphere of your gorgeous waterfront landscape design. Seating areas can connect with walkways, stairways, fire pits and even water features. Waterfalls, along with other water features like ponds and bubbling rocks, can add to the theme of your waterfront home and enhance the peaceful ambiance of your property.
What better way to complete your waterfront landscape design than with gardens and plants? Gardens can add a variation of colours and aromas throughout your property, and are beneficial to the environment.
For more ideas about features you can include in your landscape design, visit our inspiration gallery.
Get Started
Are you looking to begin a waterfront landscape design project? Legends Landscape Supply has a variety of landscaping ideas for waterfront properties that may be beneficial to your home. For creative landscape design, contact us today!