Creating the Best Landscape Design for Privacy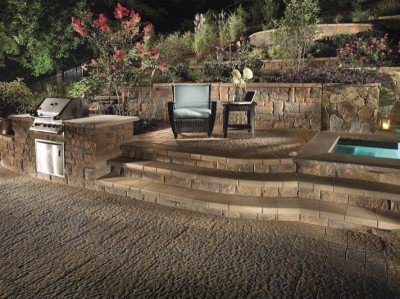 Backyards are like outdoor living rooms – or at least they can be. They are a place to gather and hang out with family and friends or to sit quietly by yourself, sunbathing or reading a book. Just as we do for our indoor living areas, most of us prefer to have some privacy in our backyard so that our personal events are not on display for the world to see.
Figuring out the best way to create privacy in a small, urban backyard is a challenging task. There are questions of appearance and style, degree of privacy, cost and time. Deciding which of these factors is a priority for you will help make the best decision for your yard.
Planting for Privacy
Using ornamental plants to create privacy is often an affordable and effective solution. For year-round privacy, you want evergreen shrubs or trees that grow to a height of at least 6 to 8 feet. If you are only concerned about privacy during the warmer months, you may find deciduous shrubs or trees work for you. Otherwise, use evergreens.
For a more informal look, plant groupings of different species in loose, informal arrangements. If you have limited space or want a formal appearance, plant a straight line of shrubs or trees, tightly spaced.
Some consider time and maintenance to be the disadvantage of using ornamental plants for privacy. Unless you buy almost full-sized plant material, you will usually have to wait three to five years for something close to full privacy with a hedge.
Placing plants closer together speeds up the process, but creates more pruning and maintenance chores to keep the plants healthy as they grow.
Fences and Walls for Privacy
For backyards with space limitations or to provide instant privacy, a fence or wall will be your best option. Depending on the topography and slopes in your neighbourhood, a six-foot-tall fence usually provides sufficient privacy.
Pressure-treated wood is easy to work with and can be used to construct almost any style of the fence from traditional to modern. For less experienced do-it-yourself types, pre-assembled fence panels are available in eight-foot lengths.
The cost of a fence is often more than a planted hedge, but there will be less maintenance. In Ontario's climate, even if the wood is pressure treated, it is advisable to reseal or waterproof your wood fence every two or three years.
For maximum privacy and minimal maintenance, a wall is your best option. Brick walls are traditional and dependable, but interlocking concrete units, which come in a variety of styles and colours, can also be used.
If a wall is the right solution for you, it is best to rely on an experienced landscape contractor for installation. A wall costs more than the other options, but is also the best way to reduce sound levels if you have noisy neighbours.
The appearance of walls or fences can be softened by landscape planting. A few tall perennials and a tree or two will help your fence blend into the landscape.
If you are not sure about the ideal privacy solution for your backyard, talk to the experts at Legends Landscape Supply. We can help you figure out the best way to create your own private, urban sanctuary.
LEGENDS LANDSCAPE SUPPLY IN BURLINGTON
For a wide selection of high-quality landscape supplies and solutions, contact our experts at Legends Landscape Supply in Burlington today.