How to Install Patio Stones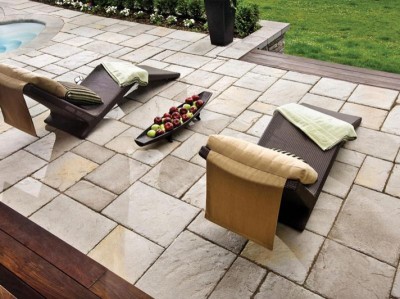 With a few features and improvements, you can completely transform your backyard living space and landscape. One addition that no backyard space is complete without, is a patio area. If you are particularly handy, have some free time, would like to learn a new skill, or simply enjoy the feeling of pride after a job well done, you may want to consider installing your patio stones yourself.
In this article, we cover everything you need to know about installing your own patio stones. Read on for more information about the tools and materials you will need and the steps to installing patio stones.
What You'll Need
TOOLS
Garden Hose
Shovel
Studs
Conduit
Safety glasses and supplies
Wet tile saw
Concrete saw
Plate compactor
Push broom
Landscape rake
Standard level
Tape Measure
MATERIALS
Ready mix concrete
Masonry and mortar supplies
Patio stones
Stone pavers
Concrete pavers
Travertine pavers
Garden stakes
Steps to Installing Patio Stones
While laying pavers as part of a DIY project can typically be completed in a weekend, in some instances it can take as long as a week (depending on the scope of the project), it can be completed in just nine steps!
Determine the Area and Purchase Materials
Calculate the square footage of the area where you plan to install your patio stones with a tape measure. This will help you determine how much material you will need. For a paver base, you will need four inches of gravel. The expert at your local landscape supply store will be able to help you calculate how much material you will need for the job and give you an estimate as to how much it will cost.
Clear Grass and Soil
Once you have your material, it's time to clear and prepare the area. Use paint to mark the area where you plan to install your patio. Next, drive your garden stakes into the ground just outside the perimeter and attach a mason's line. To determine how high to make your patio, start at the base of the house and work outward. The pavers should slope away from your home, with a drop-off of about one inch every eight feet or so. This will allow for adequate drainage, to prevent flooding or water damage to your home. You can mark the height on the garden stakes and then adjust the mason's line accordingly.
Next, clear the grass and dirt away from your work area using a shovel and spade. Don't forget to check the depth throughout this process against the mason's line and using the measuring tape. This will help to ensure that you maintain the correct depth and slope.
Add Paver Base
It's time to add the paver base. Once the paver base has been added to the area, use your landscape rake to spread it evenly with a depth of four inches throughout. Continue to compact the area until the base is firm and sturdy. Use a garden hose to wet the entire area, as this will help to further solidify. Using a plate compactor can help you save time and speed along the process, especially when working with a larger area.
Add and Level Paver Sand
Along the top of the base, place a length of electrical conduit. This will form tracks, helping to guide you as you level the paver sand.
To help guide you as you level the paver sand, place a length of electrical conduit along the top of the base. This provides you with guidance as the conduit forms tracks. Next, pour the sand across and between the conduit and then drag a 2x4 foot board across to smooth and level the sand. Be sure to double check your work with a level!
Once you're sure that the paver sand is level, remove the conduit and fill the space with more paver sand. Before moving to the next step, check the area with a level once more and adjust as needed. Repeat and continue this process until you have covered the entire patio area with paver sand.
Place Stones
It's finally time to start laying the stones. Start in the corner of the patio and work your way out, one by one. Place each stone straight down into the sand, and then fit each one tight to the next. Don't drag the pavers and never stomp them into place. Continue this process until all pavers are in place.
Cut Pavers
You may need to cut pavers to fit your patio design. To determine where exactly to cut, place the paver on top of the space in the pattern where you would like it to go. Use a straight edge and marker to mark where the paver will need to be cut. For this job, we recommend a masonry saw for a cut that is both quick and clean. Be careful during this process, we recommend using gloves and protective glasses while operating the masonry saw.
Add Edging Stones
Secure the exposed edges of your patio stone with edging stone. Once in place, secure them using concrete or mortar. Edging stone can help to create a more complete and aesthetically-appealing look, while adding more function to the space. They can help to keep your patio separate from a garden, mulch or grass.
Finish the Patio
Once the stones have been set, apply a layer of polymeric sand to the entire area. Sweep the sand into the gaps between the stones using a push broom, and then run the plate compactor across the surface. Repeat this process once more.
Enjoy!
Congratulations, your patio area is nearly complete! All that you have left to do is find the perfect patio furniture, add an outdoor kitchen and even install an oven or fireplace. With a little hard work and TLC, you can create an outdoor oasis to be enjoyed for years to come.
Legends Landscape Supply
For more information to help you improve and maintain your landscape, visit our blog or contact our team of professionals at Legends Landscape Supply in Burlington today. We have a wide selection of patio stones, flagstone and drainage stone to help you improve the quality, functionality and aesthetic of your outdoor living space. Contact or visit us today to get started.