How to Budget for a Landscaping Project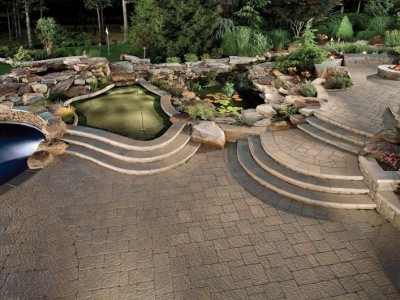 Wouldn't it be nice if you had unlimited money for your next landscaping project – or better still, that a magic genie would appear and – poof! – your project would be done? Well if you're like most of us you have neither, and that means the best way to make sure your project is completed without draining your bank account is to establish a budget right from the start. Here are a few tips to help you get started:
Determine Your Landscaping Needs
Start by deciding what you really need or want most. By focusing on the must-haves, you make sure any budget will address those critical elements first and any remaining funds can be directed toward less important "frill" items – or one dramatic focal point.
Long-Term Planning
Consider the long-range consequences of your plan. Does it require regular or costly upkeep or other maintenance that would become a drag after a while? Do you plan to remain in your home long enough to make the investment worth it? If you plan on moving soon, is this a feature others would enjoy, or is it something potential buyers might see as an unwanted feature?
Create a Site Plan
Make a site plan for the areas you want to address. Ideally, make one for your entire yard – even areas you plan to tackle later. We have an online calculator available to help determine the materials you'll need for your site. Having an overall plan will ensure you don't plant a fast-growing shade tree in front of where you eventually want to locate your vegetable garden.
Repurpose Existing Landscape Elements
Take an inventory of what you have. Look around your yard and garden and see what items you have that you might be able to replant or repurpose. Many plants can be divided and planted in your new area to help save on costs. This may also be a good time to put old bricks, stones or pavers to new use.
Create a List and Budget Your Landscape Project
Write out a list of materials and make a price list. This is where you're going to need some expert help. Once you have an idea of the project's scope and what you'd like it to look like, it's time to head over to your landscaping supply store at 1150 Heritage Road, Burlington, to see what's available. Planning even a simple landscaping project is no easy task, so don't be shy about asking for advice about materials, equipment and other supplies you might need to complete your project. Be upfront about budget limitations, as well. Our landscaping experts have seen it all and they can provide less expensive options that will achieve the same goal.
Re-Assess Your Plan As Needed
Revisit your initial plan. Once you have an idea of what items you'll need and how much those items will cost, you may find you need to rethink your plan – either to expand it or to make it a little more modest.
Remember: An investment in your landscape is also an investment in your home and your quality of life. While you don't want to overextend yourself, you also don't want to settle for cheap-looking alternatives that might save a few dollars. A well-planned landscaping project can boost your home's value too – an added benefit if you plan on selling sometime in the future.

LEGENDS LANDSCAPE SUPPLY IN BURLINGTON
For a wide selection of high-quality landscape supplies and solutions, contact our experts at Legends Landscape Supply in Burlington today.