Create a Landscape Project That Caters to You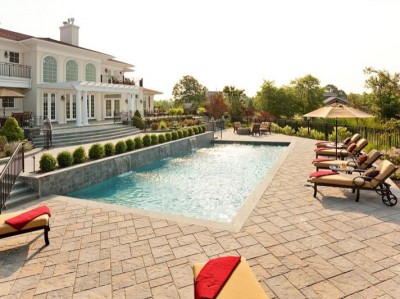 What do you want from your backyard?
Your backyard offers you and your family an amazing space with a lot of great potential. You might even be underutilizing your backyard, and not even know! If you want to make the most out of your property, you first need to realize how you actually want to use it, and then learn how you can make the most of it.
Backyards can be set up to cater to your lifestyle and needs, whatever they might be! Let's take a look at the best way how.
Making the Most of Your Space
Most homeowners really love to host parties that accommodate all of their family and friends. The right backyard landscape and setup can be used as a way to transform your home into an amazing and entertaining social hub, perfect to gather friends and family members.
Your backyard should be both aesthetically-pleasing and functional. The best way to do that is to properly plan your backyard landscape and make the most of your space. You can start on your own, by making a list of the things you would like your backyard to have. This could include grassy areas, flower gardens, a pool or hot tub, a deck and/or patio, walkways, water features, a shed, and more!
Once you have a clear idea of what you'd like from your backyard, it might be time to get in touch with the experts. The team of landscaping professionals at Legends Landscape Supply can help you to determine what you need to bring your backyard to life!
Safety First!
Child-proofing your backyard for safety is extremely important. It's all about making sure the space feels welcoming and safe for children, allowing parents to feel at ease and really enjoy themselves!
To ensure that your backyard is safe, try implementing some of the following:
Hot tub cover
Pool cover
Fences
Gates
First aid kit
Fire pit cover
Spending time outside is usually a great way for kids to stay active and get away from their screens. However, it is important to give them a secure environment, where they can play under your supervision.
Why Beauty Matters
Some might say that looks aren't important, but we beg to differ.
A beautiful backyard can truly create an exclusive and luxurious experience! Not to mention if you're proud of how stunning your backyard looks, you will be more motivated to take care of it and to really spend time in it, as well as showing it off to friends and relatives alike!
Outdoor Entertainment
Many homeowners love the opportunity to turn their backyards into outdoors entertainment centres, simply by installing features such as great stereo systems, TVs, hot tubs, water features, outdoor kitchens, a beautiful and functional patio and dining area, among many others.
These are only some of the many ways you can transform your backyard to suit your needs and lifestyle in the best possible way. Legends Landscape Supply can provide many incredible products that will allow you to shape your backyard space.
Get Started with High-Quality Landscape Supplies
From stunning flower gardens and functional outdoor kitchens, to bubbling rocks, bull nose coping, fire pits, and more! Everything is possible and there is no limit to your imagination if you really take the time to plan ahead.
Find out more and feel free to get in touch with our experts at Legends Landscape Supply today. You can even browse through our website to get some exciting ideas about how to turn your backyard into something that's truly yours!