How To Bring Versatility To Your Backyard With Outdoor Kitchen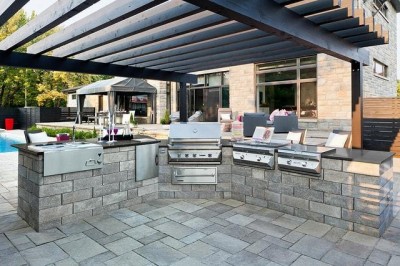 Are you wondering what your next home improvement project should be?
If you want to add value to your home, increase your living space, and set a new standard in your neighborhood for luxury and elegance, you should consider building an outdoor kitchen.
What is an Outdoor Kitchen?
Put simply, an outdoor kitchen is one of the most effective ways to upgrade your home, make the best use of your outdoor area, and enhance your enjoyment of your living space, year-round.
In practical terms, an outdoor kitchen is simply that: a cooking area that is installed in an outdoor area of your home (typically the backyard) with some or all of the amenities you'd expect of a traditional kitchen, plus certain elements you can only have outside :
An oven with a stovetop
A sink with running water
A refrigerator for keeping items cool
A countertop for preparing food
Cupboards for tools and serving ware
Special appliances such as grills, smokers, and pizza ovens
A fire pit for roasting over an open flame
Flooring that ties the area together
The possibilities for your outdoor kitchen are endless. Whether you're looking for a small grilling nook for summer cookouts or a fully outfitted setup that has all the functionality of an indoor kitchen and the sturdiness to stand up to all four seasons, you can build the outdoor kitchen of your dreams.
5 Benefits of an Outdoor Kitchen
We're not exaggerating when we say that an outdoor kitchen is a complete game-changer for your home and lifestyle. Here are just some of the ways it will add convenience, comfort, and fun to your life.
1. It's an Ideal Way to Entertain
Who doesn't love dining in the great outdoors? Take your hosting to the next level and cut down on the back-and-forth between your indoor kitchen and patio by building a fully functional kitchen in your backyard.
Then, take advantage of the many ways to enjoy food and beverage in your own outdoor getaway:
Morning coffee and pastries as the sun come up
Summer cocktails with appetizers on the patio
Afternoon tea and finger foods under the shade of a parasol
Family dinners in the fresh evening air
A blockbuster barbecue with extended family and friends
2. It Cuts Down on Your dining Out Expenses
Once you've had a taste of enjoying meals in your own cozy, private outdoor area, the thought of making reservations at a crowded restaurant is much less appealing.
Your own home will become your new favorite dining spot, which means you can save a ton of money on expensive meals out.
3. It Reduces Your Energy Bills
Not only is it uncomfortable to sweat over a hot stove on a balmy day, but it's also a big energy draw on your air conditioner. When your indoor kitchen heats up, your AC has to kick into overdrive to cool it back down.
An outdoor kitchen lets your homestay nice and cool, and your energy bills nice and low.
4. It Gives You More Ways to Flex Your Culinary Muscles
If you're a foodie and you like to experiment in the kitchen, you likely already know that indoor kitchens have a few limitations.
Even the biggest ones can't comfortably house some of the more exciting cooking appliances, like pizza ovens, meat smokers, and grill islands. Outdoor kitchens, however, open up a whole new world of possibilities.
5. It Keeps Food Smells Out of Your Home
It's no fun to wake up to the lingering scent of last night's fried fish or charbroiled steak still hanging around. They not only stick around in the air—certain food smells even find their way into the fabric of your curtains, couches, and rugs and stay there for a long time.
An outdoor kitchen keeps pungent odors outdoors, so the interior of your home smells like, well, home.
Everything You Need to Build the Outdoor Kitchen of Your Dreams in 2022
We've broken down the outdoor kitchen essentials into four main areas: flooring, appliances, countertops, and extras. Here's what to consider for each.
1. Flooring
Flooring serves a couple of important functions: it defines the area and layout of your outdoor kitchen, enhances its durability and value, and ties together the overall look of the space.
Safety is another critical issue to consider when choosing your flooring, as you'll need a material that is appropriate for people of all ages (from high-energy youngsters to older people who require smooth and stable surfaces) to be walking on.
Keep in mind, too, that if you want your outdoor kitchen to be accessible 365 days of the year, in the rain, sleet, or snow, it needs to be resistant to tripping and slipping hazards.
2. Appliances
The size and number of your appliances will depend largely on how much outdoor space you have. When selecting your appliances, keep in mind that they will need to be spaced appropriately to allow for work areas and for people to be able to move around naturally.
A good rule to apply here is the traditional "triangle" most indoor kitchens are built on, in which the sink, cooking area, and food storage area are placed in a triangular formation. The space between each point on the triangle should be no less than 1.5 meters and no more than 2.4 meters.
3. Countertops
Your countertop is where a lot of the action happens, from food prep to serving to storage. Plus, it has to hold up to a range of temperatures and weather conditions. A mix of stone and stainless steel is a great option as it provides the ultimate in style and function.
Concrete is another option to consider as it is durable and easy to clean and maintain.
Whatever you choose, you'll want to coordinate the look of your countertops to your flooring and cabinets, so it all works together visually.
4. Extras
As a place to cook, entertain, and enjoy fabulous food, your outdoor kitchen should be outfitted to maximize your comfort and enjoyment. So don't be afraid to add those finishing touches and features that will make this area one you want to retreat to again and again.
Specialty lighting can create just the right ambiance for when the sun goes down and a small fountain can add a touch of serenity. Use your imagination to help make your outdoor kitchen the highlight of your home.
You don't have to make all these decisions on your own. Our team of experienced professionals at Legends Landscape Supply can help you select the ideal elements to build an outdoor kitchen uniquely customized to your personal needs and preferences.
5 Step-By-Step Guide to Designing Your Ideal Outdoor Kitchen
1. Gather Your Ideas and Inspiration for Your Outdoor Kitchen
The first step to creating a stunning outdoor kitchen is to gather some inspiration and think about what your ideal arrangement would look like. A great way to get the ideas flowing is to check out websites and blogs dedicated to design and landscaping.
You can see a gallery of some of our favourite projects we've worked on here.
In starting to dream about the potential of your outdoor kitchen, you'll need to make a few key considerations, such as:
How often do you plan to use it and in what types of weather?
Do you have other backyard features (e.g., pool, hot tub, garden) that need to be taken into consideration?
What materials are most suitable for the climate you live in?
What decor styles do you prefer?
2. Do Your Research and Decide on Your Budget
Once you've got some ideas roughed out, it's important to decide on your budget so you can start to make a realistic plan for bringing your vision into reality.
You'll need to consider how much you're willing to spend in total, which includes appliances, flooring, countertops, installation, and other add-ons.
When in doubt, we recommend erring on the side of durability when choosing your cooking equipment, since going for the cheap option can often end up costing you more in the long run if it breaks down frequently or needs replacing a few years in. If you're on a limited budget, decide which item is the most important to you (like a top-of-the-line grill) and prioritize that.
Don't forget to factor in the ongoing maintenance costs of your kitchen, too. This would include expenses such as charcoal or propane for your grill, electricity to power your fridge and other appliances, and cleaning. You may also find that, once your outdoor kitchen is up and running, you enjoy it so much that you want to expand it.
3. Meet with an Expert to Get the Ball Rolling
An expert will be worth their weight in gold, since they bring a wealth of experience from hundreds of projects worked on, that will help you avoid the common pitfalls that can happen.
For instance, an expert can advise you on where best to position your outdoor stove, barbecue, or smoker, so that exhaust and fumes don't waft back into your house when the wind kicks up.
They can also advise on the best types of flooring, appliances, countertops, and finishing touches for your needs and lifestyle, whether you live in a smaller family unit of two or if you have a multi-generational household.
Homes with children, older people, and pets, all need to be considered when building your outdoor kitchen, and an expert can provide you with the information you need to know to create a safe and comfortable area that you can enjoy for many years to come.
4. Plan, Prepare and Complete Your Outdoor Kitchen
With your plan in place, it's time to get the ball rolling. Some homeowners love the challenge of building their outdoor kitchen themselves. If this is you, check out our landscaping coaching services before you get started. We provide a ton of valuable tips and advice for the handy homeowners who want to build with their own hands.
Save time scrolling through DIY websites and message boards and get the specific information you need, all in one place.
If you prefer to outsource your project to professionals, we can put you in touch with trusted local contractors that we have developed long-standing professional relationships.
5. Maintain Your New Outdoor Kitchen and Enjoy Being in the Great Outdoors!
In addition to the normal care and cleaning that a kitchen requires, you'll want to perform regular checks and maintenance of your outdoor setup. This will include checking the burners, valves, and hoses on your grills. Temperature changes can cause parts to expand and contract, so it's important to examine them periodically for splits and cracks.
Your countertops can be cleaned in the usual way, with a little soap and warm water. To keep them looking their best, you may want to cover them when there's ice and snow out (that is, unless you're planning to bundle up for a winter cookout).
Lastly, enjoy your fabulous outdoor kitchen to the fullest. There's really nothing quite like having an outdoor area where you can live your life in the fresh air and the sunshine, all with the privacy and comfort of home.
Shop Outdoor Kitchen Supplies in Burlington Today
Did this article inspire you to start imagining the possibilities for your own outdoor kitchen? Get started building your own outdoor oasis with the help of the experts at Legends Landscape Supply.
Our dedicated team of experienced and knowledgeable professionals is here to help with everything from selecting the right materials and products to putting you in touch with local landscapers to design your ultimate backyard. If you're a DIY-er, we offer a landscape coaching service that will set you up with the guidance you need for a successful project.