5 Landscape Ideas This Spring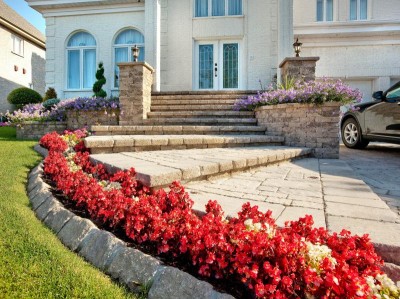 Spring has officially sprung!
We all know what that means. Everyone is itching to get outside and enjoy the beautiful weather! Especially following a cold, harsh Canadian winter. Chances are, you might notice a few areas of your outdoor property that need to be revamped this spring. Regardless if there's damage from the winter, or it's just time for a change, there are a few things you can do to spruce up your landscape investment this spring!
Natural Water Features
What better way to create a backyard paradise, than with the addition of various water features? By adding a source of moving water to your landscape, you can create a more natural atmosphere within your backyard.
Various water features can include:
These water features can be easily-integrated within many backyards and home landscape projects. They can be the perfect addition to a relaxing backyard, perfect for yoga and reading, or even within backyards that are geared towards entertainment! Water features make an interesting conversation piece that can help guide backyard traffic. This can prevent groups of people from crowding around entrance points and lead them deeper into the backyard. What better way to compliment your outdoor lifestyle, than with the relaxing sounds of trickling water?
These various water features are generally easy to install and are quite reliable. Home owners can enjoy these water features for years to come, and with minimal maintenance too! For more information regarding the installation and upkeep for these water features, contact the experts at Legends Landscape Supply today.
Fire it Up!
Let's take your backyard enjoyment to the next level of luxury.
By including a variety of fire-based features in your backyard, you can really enhance your time spent outside, especially at night!
Some fire features that you can include within your landscape are:
Including any of these features can enhance the social environment of your backyard. These features create a setting for you and your guests to join around, relaxing as you enjoy each others company. Not only do they provide a centrepiece to your outdoor evening, but they can also keep you warm!
Often in the spring, and occasionally in the summer, the temperature can drop at night. So, grab a seat, your favourite sweater, and share a blanket with your closest family and friends as you bask in front of the fire!
Illuminate Your Landscape
What if you could improve the safety of your home, while enhancing the aesthetic at the same time?
Well, that's exactly what installing exterior lighting can do for you! Installing lighting throughout your landscape can help improve safety in a number of ways. By illuminating walkways, steps, and driveways, you can help prevent residents or visitors from tripping and falling at night, due to darker conditions. Exterior lighting can also provide additional security, helping you keep an eye on your property and even helping to repel trespassers.
Exterior lighting can really highlight certain aspects of your home. Having it installed along the exterior of your house can help provide an exquisite look, especially if you have brick or masonry along the side of your house. Exterior lighting can also be utilized to illuminate walkways, plants, walls, pillars, fences, gazebos, and water features. The correct lighting installation can help create a romantic ambiance or a party vibe. String lights and coloured spot lights can set a fun environment, while dimly lit, overhead lights create an intimate setting. The are so many possibilities.
How will you illuminate your home?
It's Patio Season!
Who doesn't love sitting out on the patio during a warm spring morning? Or enjoy eating dinner with the entire family outside? A high-quality patio crafted with strong and durable materials can offer beautiful results, while lasting for many years.
You can create a patio that's built to last with quality materials, like natural or square flagstone. Flagstone is ideal for patios because it provides a natural appearance that is not only smooth, but allows for optimal grip as well. This grip can help to prevent residents and guests from slipping and falling on slippery patio stones.
Deciding between natural and square flagstone all depends on your personal preferences, as both can provide a beautiful patio with lasting results. Natural flagstone has an earthier appearance, as each stone has a unique shape. Square flagstone can provide a more modern and clean-cut appearance as it has straight lines and the stones can be placed strategically to form a geometric pattern.
From Walkways to Driveways
It's inevitable – there will come a time when your walkways or driveway needs to be revamped. Both pathways and driveways encounter traffic over the years of use, so don't be surprised if your stones have started to shift, become damaged, or started to deteriorate.
Investing in quality stones, pavers, slabs, and interlock for your walkway or driveway can be very beneficial for your landscape. Not only will you be provided with beautiful, lasting results, but you can maximize your overall investment. Creating or revamping a walkway or driveway can prove to be a large project.
Before you get started, you may want to contact the landscape professionals at Legends Landscape Supply. They are the experts when it comes to everything driveways, patios, and landscape projects!