4 Simple Garden DIY's You Can Do in a Day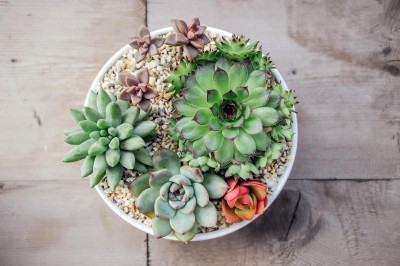 It's no secret, you work very hard to make your home beautiful.
Hard work can go a long way when it comes to your home. Making your living space beautiful is an ongoing project. So, it's no wonder why you might want to spend your day off doing something productive, that will add to your homes aesthetic – especially when the sun is shining and the weather is beautiful! If you're looking for the next stunning and functional project for your backyard, check out some of these backyard DIY's that can be done in just a day!
1. Cactus Centrepiece
Do you have an outdoor patio table, bar, or coffee table that is desperately in need of a centrepiece? Well, this cactus or outdoor succulent masterpiece might be just what you've been looking for. You can even tweak it to showcase your style perfectly.
You'll need:
Shallow clay pot or bowl
6 cacti (thimble cactus, blue candle cactus, and barrel cactus work well together)
Gravel
Shovel
Cactus soil
Gloves
Use the cactus soil to fill the pot almost to the top. Start planting your cactuses, with the larger ones first. Make sure to really nestle them into the soil. Once planted, lay the gravel on top of the soil for additional foundation and an added aesthetic appeal. Add a little water now and again, and make sure that it's placed in a nice, sunny spot.
2. Enchanting Garden Stepping Stone Pathway
What better way to give your backyard an inviting and inclusive atmosphere, than with a beautiful flagstone pathway? From simple to intricate, your pathway can act as a decorative addition to your backyard or a functional passageway throughout your personal paradise.
You'll need:
Metal rake
Broom
Shovel
Gravel
Flagstones
Compactor
Garden edging
Water
Start by preparing the area where the walkway will be installed by digging up about four inches of soil. Install your garden edging for additional direction and a stylish end result. Rake away any debris that might be laying underneath the soil and smooth out the dirt.
You don't want weeds to grow in your flagstone pathway, so add a layer of gravel and then about two inches of raked sand throughout. Use the mist setting on your hose and apply water to the ground. Use a garden compactor to ensure that the ground is compact and completely level throughout.
Now, it's time to lay your flagstone! For an enchanting stepping stone walkway appeal, aim to keep the stones roughly five inches apart from one another. How many stones you will need depends on how long you'd like your pathway to be, so make sure to plan this out before purchasing the stones. Lastly, fit each stone into position, making sure its level. Once all your stones are in place, it's time to fill the gaps. You can use a variety of materials to fill, like sand, gravel and mulch. Once the gaps are full, sweep away debris and enjoy!
3. Garden Tipi Trellis
This garden DIY is super quick and simple! Not to mention perfect for your garden or even an accent piece. This garden tipi trellis creates a great place for climbing plants to grow and thrive, and a fantastic conversation starter!
All you're going to need is about five to ten branch cuttings or bamboo poles and some rope, garden twine, or copper wire. If you opt for branch cuttings over bamboo poles, try to aim for apple, elm, cedar or oak – as they will provide a sturdier foundation and last much longer.
You might need the help of a second person to organize the poles correctly and hold them in place. Place them in a tipi formation, with about 2-3 inches of overlap at the top. Take a piece of garden twine, copper wire, or rope to wrap and properly secure the top of the tipi trellis into place. Once secure, make any final adjustments and secure the tipi into the ground. Use more rope or twine to wrap around the trellis about two to three more times with equal space in between.
4. Floating Garden
Looking for a unique way to use potted plants outdoors? A floating garden might be the perfect addition to your backyard! How simple or advanced you want your floating garden is up to you, depending on available space, number of plants and of course – how crafty you are.
All you need is one or multiple pieces of wood (if multiple, make sure they are equal sizes), some thin rope, wood glue, potted plants, and a drill. You can either drill a few holes in the wood and loop the rope through, knotting it at the end, or you can simply tie multiple pieces of rope around the wood and tie together at the bottom.
If you're going to drill holes, you have the opportunity to add multiple shelves easily. Drill two small holes at the end of each plank of wood. Knot the end of the rope first, so that when the shelf reaches the end it's nice and secure. Start by looping through your bottom shelf first, so you can easily work your way up with the next planks of wood. Next, make the same knots but about 12 inches above. Loop in your next piece of wood, secure, and repeat.
To ensure that none of your pots fall off and break, use wood glue to secure them to the shelves. You can even add a little glue to each knot as you place the shelf, just to make sure it's locked in. Find a safe place, such as the side of a fence or shed to hang your outdoor floating garden.
For more information about landscaping products and DIY landscaping, contact our experts at Legends Landscape in Burlington. We have a wide variety of landscaping products for sale and our specialists are ready to help!