CREATE YOUR DREAM LANDSCAPE
Where style meets functionality.
Find out how the Super Sacks available at Legends Landscape Supply can help transform your outdoor property this spring and summer.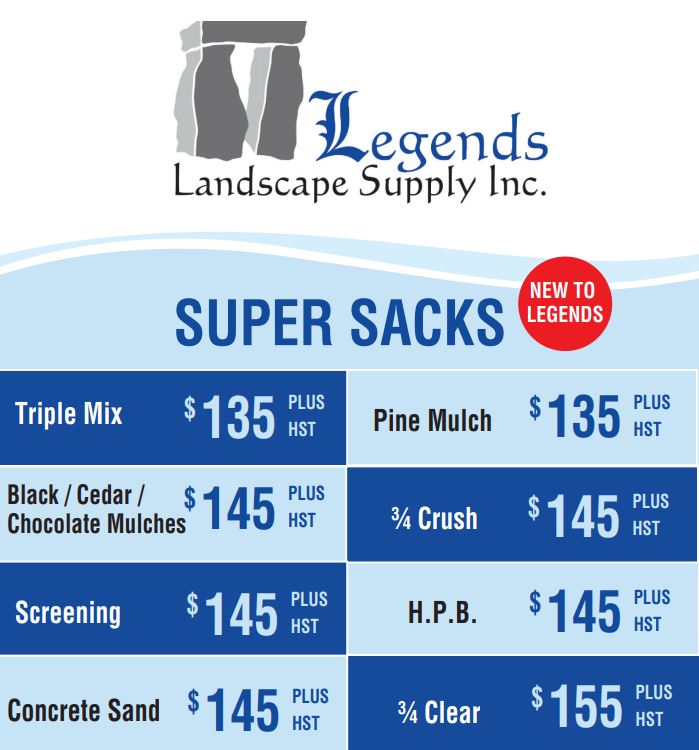 SUPER SACKS
New to Legends Landscape Supply
Super Sacks offer everything that you could possibly need for your garden and landscape when it comes to soil, aggregates and mulch. Choose from one of the convenient and affordable Super Sacks and bring your landscape to life this spring!
Triple Mix:
$145 PLUS HST
Black/Cedar/Chocolate Mulches:
$155 PLUS HST
Screening:
$155 PLUS HST
Concrete Sand:
$145 PLUS HST
Pine Mulch:
$145 PLUS HST
3/4 Crush:
$145 PLUS HST
H.P.B.:
$155 PLUS HST
3/4 Clear:
$155 PLUS HST
For more information, visit Legends Landscape Supply today.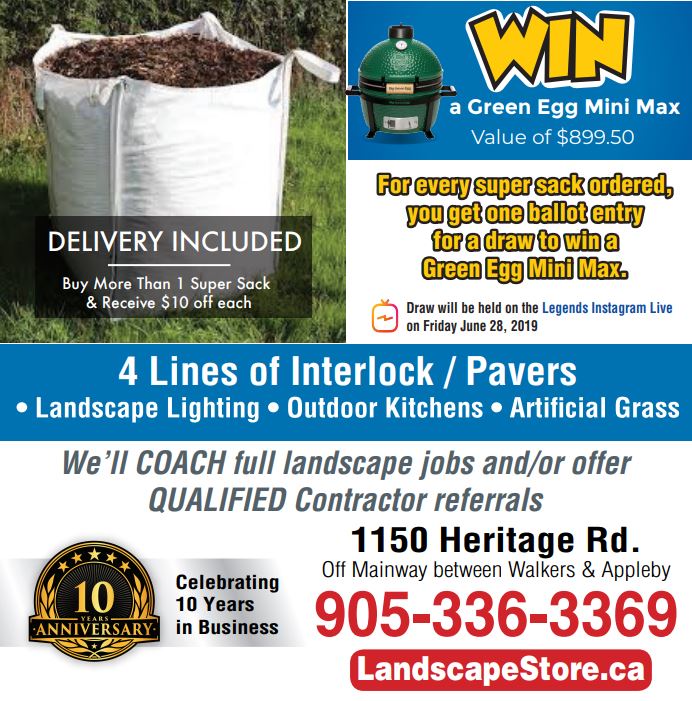 Win a FREE Big Green Egg MiniMax
Earn a ballot in the draw for every Super Sack you purchase!
The live draw will be held on the Legends Landscape Supply Instagram on Friday, June 28, 2019. Delivery is included for all Super Sacks. Buy more than 1 Super Sack and receive $10 off each. Visit us today at 1150 Heritage Rd. in Burlington, just off of Mainway between Walkers Line and Appleby Line or give us a call at 905-336-3369.
GET YOUR SUPER SACK
Legends is not responsible for:
Manufacturing imperfections, dye lot
Variations, surface texture variations
Colour pigments, effects of humidity & temperature, sizes & colour of available aggregates, poor packaging & effects of efflorescence.
Any exceptions must be made by the manufacturer's representative.
25% Restocking Fee Applies To:
Return Exceptions
Interlock returned in original packaging and in original condition & must be approved by Legends Management
Special Order interlock (must be in original packaging) and approved my Legends Management
No Returns on:
Any Natural Stone
Veneers
Counter Tops
Custom Orders
Water Features
Artificial Turf
Outdoor Appliances & Accessories
BBQ Grills & Pizza Ovens
Open or Used Products
Sample Deposits
Must be returned within 14 days with original invoice for refund.
Skid Deposit Return
Must be returned no later than Nov 30 of the same year, for refund.