Waterfall Kits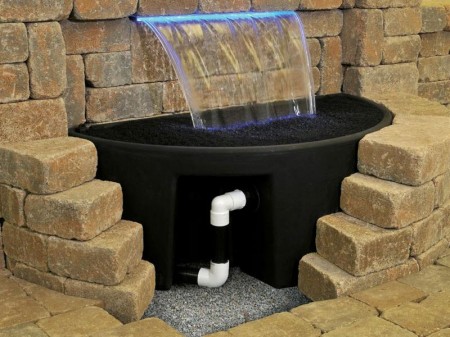 Take Joy in Tranquility
Your property should be a stress-free haven. Introducing a lavish backyard waterfall using one of our no-fuss kits can provide you with enhanced relaxation and a breathtaking overall effect.
Drown out Unwanted Sounds
Relish the drip, ripple and rush and become unaware of the disruptive noises of traffic, airplanes, or even your neighbours lawnmower.
What's Included?
Everything you need to complete your project excluding decorative rocks:
Hose
Pump
Liner (if applicable)
Lights
Have children, or mischievous pets?
A pondless waterfall option gives the cascade effect without the safety issues of a pond.
Easy to Install, Easy to Maintain
Our pre-assembled kits make it a breeze to install in a few simple steps:
Select your location- the greater the slope, the louder the sound
Choose your stone material and kit
Design your pond/cascade
Begin at the lowest point and install pump
Build up your steps working backward to create your desired look. Install liner and position your stones
Add river rocks or other aggregates
Fill with water
Browse our Quarry Products and Aggregates to Complete your Project
Stop by our showroom to view our quarry products and aggregates that you will need to build out your feature. Rely on our expert team to help you determine the best location for your waterfall, or to match you up with a qualified contractor to take care of the installation.