Waterfalls & Spillways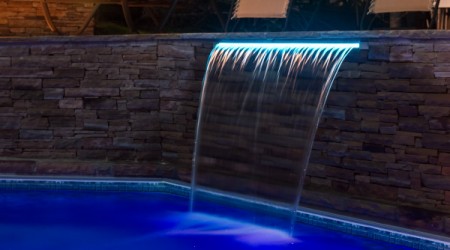 Light It Up
Make your outdoor oasis eye-catching after sundown by selecting a Colorfall available in three vibrant colours, blue, crystal white, and sol white (colour changing options available to order). Colorfalls produce a sheer of lighted water emerging from a concealed source inside CREATE A FOCAL POINTvertical walls. They adapt to any wall material – pavers, tile, brick, stone, wood, etc. Colorfalls come in three sizes, 12", 24" and 36" and are for use with formal spillway basins and basin kits.
Create A Focal Point
Create an enticing and durable focal point for water applications in your landscape. Brushed stainless steel spillways are sleek and modern and will enhance any vertical wall in poolscapes and hardscapes. Spillways are available in three sizes, 12", 24" and 36".What's Included?
See For Yourself
Stop by our showroom to talk through the water feature options that are available to you.