Soils (Triple Mix)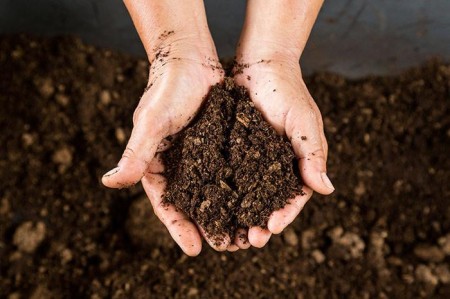 A Thriving Garden
Plenty of factors play in to the creation of a successful garden. Wind, sun, rain, and shade all play important roles. But as a consumer you can never overlook the importance of a good quality soil. Excessively sandy material will turn the garden into a desert. Too much clay will drown your vegetation. Low levels of organic material will leave your plants starved for nutrition. We want to make sure you have the right quantity and quality of the ingredients most suited for your purpose.
Soil Needs Balance
A good planting material is called loam, and it will contain variable quantities of coarse sand, fine sand, clay, silt, and organic matter. The right mix of these materials will be firm enough for plants to take root but loose enough for excess water to drain away.
Weed Free and Dry Storage
It is important to find a weed free mix. At Legends we protect our pile with a large dome so no airborne weeds can enter our stock pile to guarantee you a proper yard of soil when you pay for it. Our soil is also local and it is trucked from only half an hour away. This is important to all of your plants, because they thrive in soils they are used to.
Many of our contractors use us on rainy days, even though were not the closest, because all other soil companies have wet soil. Consumers are becoming more aware of the weed infested black loams that are being trucked in from the swamps. When you pay a fair price for local soils, you will avoid the hours spent pulling weeds out of your garden. Cover our triple mix with black mulch, and your garden beds will be even more low maintenance.
The Soil Test
To test the quality of a soil, you've got to get dirty. Plunge your hand in and pull out a loose handful. Let the material fall through your fingers. If large, sticky clumps remain, it might have too much clay. If your hand is left mostly clean, the sand content may be too high. Look for something with a rich, dark colour that sticks but doesn't clump.
Another test is the fist test. Close a fist around the soil. If you can break up the soil easily to the same consistency you picked up with your fingers, then it is a proper mixture. It should clump but not stay in a ball. This would mean too much clay in the mixture holding in the moisture content. It could also mean a poor quality mixture or an inexperienced mixing operator.
Come See Us
If you're ready to start your project, swing by our showroom on Heritage road in Burlington or arrange for a delivery right to your front step. If you're looking to improve your preexisting soil, one of our experienced employees will be happy to help. We also supply quality weed-free seeds and fertilizers. All of our lawn supplies are quality choices used by the top landscape maintenance companies in the area.