Interlock Edging/Restraint
Interlock Edging/Restraint
It's Cheaper to Do it Right the First Time
You want your patio, walkway, or interlocking landscape feature to last. The last thing you would want is to watch your hard work degrade over time, requiring time and money to repair. Using a quality interlock edge restraint will help keep your workmanship looking flawless over time. Remember to plan for 6 inches of extra compacted base material beyond the footprint of your patio. This area is important as it receives the spikes that hold your edging in place.
Forgoing Edging Compromises Results
Without the use of our aluminum or plastic edge restraints, pavers will shift due to traffic and seasonal changes. When this occurs, the once compacted base will begin to erode leaving you with an uneven, unsightly interlock feature. It is very important to use paver edging along any area such as gardens and grass that can contaminate your base material in the future.
What We Carry

Surefoot Aluminum Paver Edging
8'4" Lengths
Heavy duty construction; lasts a lifetime
Comes in straight form but can be easily manipulated for curved applications or corners
Can be installed both standard or reverse installation
Low profile, edge is invisible when installed properly
Made from 100% recycled material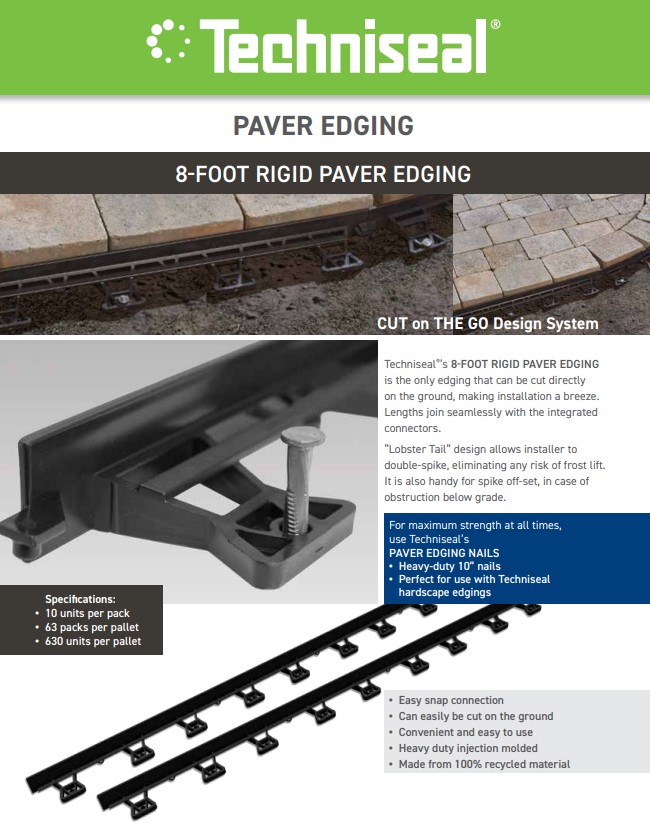 Techniseal Plastic Paver Edging
8-foot rigid paver edging
Edging can be cut directly on the ground making installation a breeze
Lengths join seamlessly with integrated connectors
"Lobster Tail" design allows installer to double-spike, eliminating any risk of frost lift
Made from 100% recycled material
10" Non-Galvanized Steel Spikes
For driveway installations, nail every 8" (20cm) to 12" (30cm)
For walkway and patio installations, nail every 16" (40cm) to 20" (50cm) and at either end.
Visit us today to get the right edge restraint products for your project.