Skidded Rock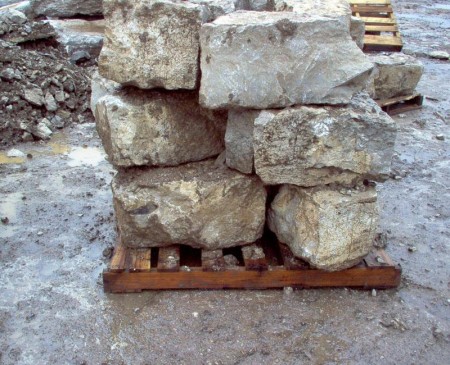 The Fortunate Ones
Some homeowners are fortunate enough to have naturally occurring rock features around their properties. A sloping property with medium to large rocks strewn about can make a small yard seem like a mighty natural landscape. The reality is that most homeowners looking for this style will have to work to achieve this organic look. Skidded rock, with its natural weathered appearance, is ideal for do-it-yourselfers hoping to bring the highlands home.
Tips to Rock your Garden
Choose rock native to Ontario. This will make your rock garden appear more natural.

Added bonus – local quarry products are always the most affordable.

Place the rock on its most stable point. A wide base means you can trust the rock not to shift or roll when children or pets are nearby.
It may be necessary to anchor the rocks by burying them partially. This makes them look more natural.
If placing multiple rocks, start at the bottom, place larger rocks in a loose perimeter, and work up from there.
It is always recommended to place rocks with any veins horizontal to the ground. This will make the rock look more natural. It will also eliminate any chance of it splitting from being exposed to the weather over time.
Stop Worrying About How you are Going to Get Your Boulders Home
We deliver, so all you have to worry about is where you want your natural accents placed.
Help Us Help You
Our skidded rock products are guaranteed top quality, exactly as advertised. Stop by our showroom on Heritage road in Burlington and let us show you exactly what sets our products and service apart from other landscape suppliers.