Random Flagstone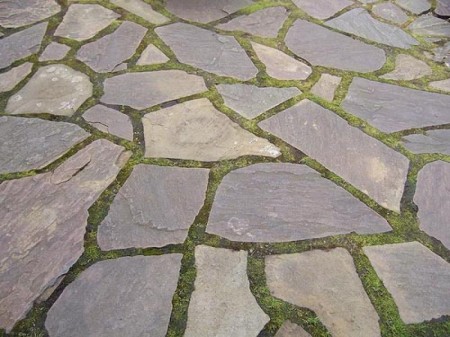 Order from Chaos
For a more natural appearance than the straight lines of square cut flagstone, consider designing a walkway, patio or meandering garden path with random cut flagstone. The jagged edges and illusion of mismatched placement random pieces can introduce to your yard will add a dimension of earthiness no other product can match.
Tricks of the Trade
Flagstone from the same geographical area can contain variations in strength, colour, and shape. Because of this, we suggest buying more than the amount required to complete your project (and any contractor planning to meet his deadline will do the same).
Spic and Span
As with any outdoor feature, flagstone requires maintenance to reduce wear and increase the lifespan of the installation. Regular sweeping will eliminate the buildup of stone-staining dirt and sand. Stains can be removed with bleach and water, or with specially developed flagstone cleaner products. Water stains are more difficult to remove, and as such your flagstone should be sealed upon installation. Sealers can be applied in both matte and glossy finish. We encourage matte sealers, painted on, to keep the stone surface looking natural.
Let us Help
At Legends Landscape Supply, we are a community of experienced landscape professionals who are eager to share our experience with you. Give us a call or stop by the showroom to learn what else we have to offer.